LOCKDOWN EDITION - Term 3, Issue 8 - 13 AUGUST 2021
PRINCIPAL'S LETTER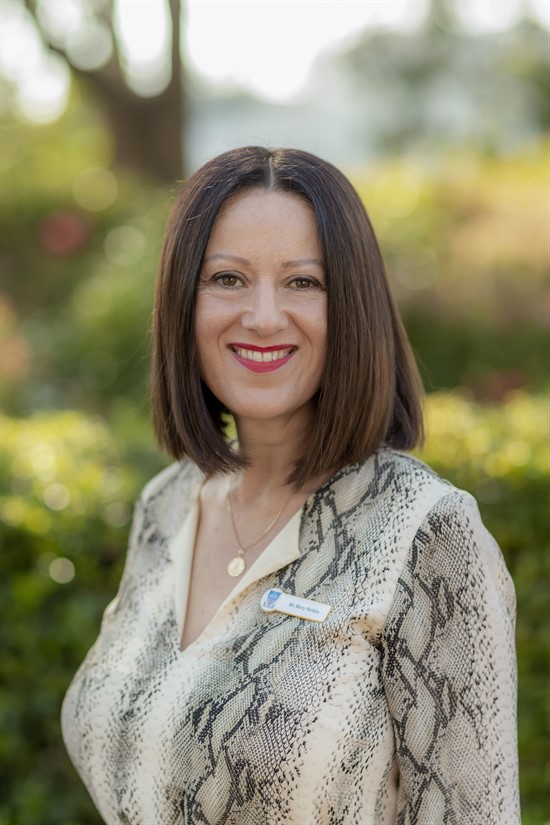 This week has seen us move into another week of lockdown and learning from home. Despite what may seem a bleak outlook, it is more important than ever that we remain people of hope and joy.
In reading some recent publications about maintaining good spirits, I have noticed a focus on remembering what we have, not what we are doing without, and on what we can do, rather than what we can't do.
Many of us, at this time in particular, are grateful to be together as a family. We have heard from students who have said how much they have enjoyed connecting more strongly with a brother or sister now that they are planning to do things together more frequently. Others are experiencing the joy of eating an unhurried family meal together at the dining table, during which banter and laughter ring loudly, and family bonds are tightened. Others again are using their down time to play board games or parlour games (and having fun whilst secretly developing important personal and language skills! - don't tell the kids). Others, again, are letting off the steam of confinement by kicking a ball around the backyard or park, and at the same time are releasing the endorphins that make us feel happy.
For each of you, we at school pray that you experience the joy and hope that comes from important family relationships that can be nurtured during this time.
During the past week, I have heard from a number of parents, carers and students who have sent messages and gifts of thanks to the school staff for their work with their daughters this term. Thank you for remembering and recognising the important work they are doing.
Today I offer you the Mercy prayer, 'Contagion of Hope' to pray with your families. You will find it further on in the newsletter. Please enjoy.
Research opportunity from The Advocate for Children and Young People
The Advocate for Children and Young People (ACYP) is an independent statutory office reporting to the NSW Parliament. The Office works to promote children and young people's voices. The ACYP would like to have a conversation with students from Catherine McAuley about their experiences during lockdown to provide the NSW Government with more information about how young people are feeling about the current COVID-19 outbreak, with a focus on the LGAs across Sydney currently facing greater restrictions. The consultation will include how the lockdown is impacting students, their attitudes towards the restrictions, how they receive information, and what would help young people to stay safe during this time. Further background information can be found here.
The conversation would occur in a group and take place next Wednesday during a lunch time Zoom meeting. Conversations would be conducted by an experienced participation team with varied backgrounds in social work and psychology to ensure student welfare is considered throughout. All ACYP staff have current Working with Children Checks and have completed Child Rights training. The discussion would be completely confidential and participating students' names or their school will not be shared.
Can you please ask your daughter if she is interested in participating in this conversation. (We have not advertised it anywhere else, so students are not aware of it at this time.) If your daughter would like to participate, please complete this Google Form by COB on Monday to give your consent.
Vaccinations for Aboriginal and Torres Strait Islander People
For Aboriginal and Torres Strait Islander people people aged over 17 in Blacktown LGA, Marrin Weejali has organised for vaccinations on 23th August and 20th September 12:00pm to 3:00pm. The contact is Cindy on 9628 3031.
Please update your contact details
On Monday, 16th August you will receive an email or SMS from Catholic Education Diocese of Parramatta (CEDP) asking you to review and, where necessary, update the key information they hold about your children currently enrolled in CEDP schools.
The purpose of this review is to ensure that CEDP has the right details to correctly identify and support students, including contacting families in an emergency or to share important updates.
Steps have been taken to ensure this process is as secure as possible to protect your information and your family's privacy. Your information is only accessed by authorised staff when it is necessary and in accordance with our Privacy Policy.
The link is open until Friday, 3rd September and I encourage you to complete the review/update as soon as possible to ensure that your family's correct details are on file. This is particularly important as Greater Sydney remains in lockdown due to the COVID-19 outbreak.
This short "how to" video may assist you with completing the process (use the closed caption icon to turn on subtitles). Please don't hesitate to contact the school office if you have any questions or concerns.
Only one person per family needs to complete the survey and it takes about 15 minutes to complete. If you have any questions or to seek help, please contact the CEDP Community Liaison Team on 9840 5796.
Mary Refalo
Principal


Contagion of Hope Prayer
Christ Our Light!
Your light rises in our darkness
and assures us that you are present with us
and that your powerful closeness to us
transforms our fear into hope.
May we join with our Holy Father, Francis, in spreading a "contagion"
of hope "from heart to heart."
Protect all your selfless servants who continue to serve the needs of
the most vulnerable by both hands and heart.
Give our elected leaders wisdom of heart in decision-making that the
common good of our human family may be achieved and the gift of
each person's human dignity respected.
May the new Easter fire of love, energy and resilience burn within our
hearts so that we may give witness to the mystery of your resurrected
life among us and within us.
Amen.
Sister Deborah Troillett
April 13, 2020
Published on: 10 Aug 2021
COUNSELLOR'S CORNER
Mental Health and Our Children - Watch for Warning Signs
The ever-changing restrictions and lockdowns are all situations outside of our control. Not just the virus itself but all the other aspects of life that might be impacted including work, finances, school, socialising and travel.
Many of us are experiencing a variety of emotions ranging from fear to anxiety, which are considered normal and natural responses. If you notice any changes in your daughter's behaviour and mood, I have included some 'Red Flags' you should be alerted for. These signs include:
Low self esteem

Loss of interest in favourite pastimes

Unexpected and dramatic decline in academic performance

Personality shifts and changes, such as aggressiveness and excess anger

Excessive sleeping or lack of sleep

Feeling sad and unhappy

Inability to concentrate

Excessive fear

Mood changes

Easy irritability

Withdrawal from friends and activities
Inability to study
Easily distracted
Loss of drive and motivation
Loss of concentration
Feeling tired and lethargic
Inability to cope with daily stress or problems
Loss of appetite or excessive eating
Emotional
Keep communication clear, open and honest. A conversation can make a difference in helping your daughter feel less alone and more supported in managing their difficulties. Do not underestimate the importance of just 'being there'. Share and talk about your own experiences and fears that you are struggling with and let them know that they are not alone.
If you feel that your concerns are serious, discuss them with your General Practitioner or Paediatrician.
The School Counsellor is also available for a chat and can be contacted on 9849 9100 to discuss your concerns and worries.
The following services are available:
Kids Helpline 1800 55 1800
Lifeline 13 11 14
NSW Mental Health Line 1800 511 011
Some extra resources that are helpful in engaging in for support and guidance is via the link below:
Published on: 11 Aug 2021
STUDENT AND STAFF NEWS
Catherine McAuley Student Leaders Send Video Messages of Support to All Students
The Catherine McAuley Students Leaders have been using the private student Instagram page and the Compass school notices platform to send messages of support to all students.
From reminders to go for a walk to ways to stay connected with friends to remembering to look after themselves, our Student Leaders sent a video message out to all students every day over the past fortnight. Here is a snapshot of some of these messages of support.
McAuley Art Club
The McAuley Art Club continues to meet over Zoom every Friday at lunchtime.
Week 3 had the theme 'Wonders of the Sea' with students and teachers joining together virtually to paint and draw scenes of the sea. Special guest was the artist Gillian Kayrooz.
The Week 4 theme selected by students was 'Sunrise/Sunset' and was chosen as it is a theme which focuses on transition and a new beginning.
The theme for Week 5 was to draw your favourite fictional character or imagined figure.
This week the theme is art inspired by the seasons. We look forward to some examples of these works which will be posted on the school's social media.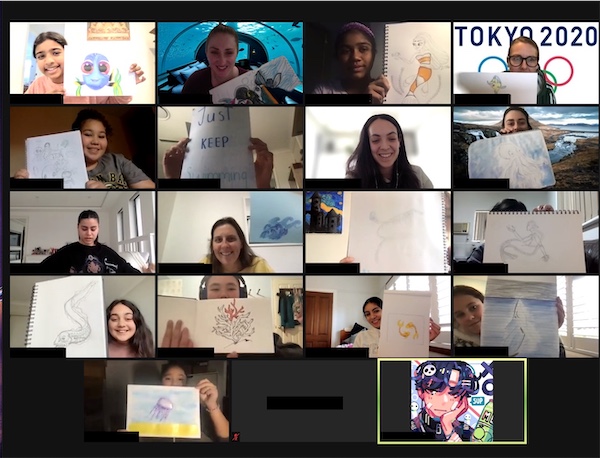 Fun From Our English Coordinator
Mr Grumley has been pondering a few questions whilst in lockdown:
If a bottle of poison reaches its expiration date, is it more poisonous or is it no longer poisonous?
Which letter is silent in the word 'Scent', the S or the C?
Do twins ever realize that one of them is unplanned?
Why is the letter W in English called double U? Shouldn't it be called double V?
Maybe oxygen is slowly killing you and it just takes 75-100 years to fully work.
Every time you clean something, you just make something else dirty.
The word 'swims' upside-down is still 'swims'.
100 years ago, everyone owned a horse and only the rich had cars. Today everyone has cars and only the rich own horses.
Four great confusions still unresolved:
At a movie theater, which arm rest is yours?

If people evolve from monkeys, why are monkeys still around?

Why is there a 'D' in fridge, but not in refrigerator?

Who knew what time it was when the first clock was made?
In The News
The school's efforts in fundraising for The Parramatta Women's Shelter has been recognised in the latest edition of Catholic Outlook. Well done to Ryan and Mercedes Houses for organising this fundraising last term. Click on the link to view.
Published on: 10 Aug 2021
AROUND THE CLASSROOMS
Around the Virtual Classrooms - Term 3
Are You Ready To Rock?
Year 7 Science students of Ms Raja have just started a unit called 'Are You Ready To Rock?'. They have looked into the structure of the Earth and were challenged to use materials found in their house to build a scale model of one hemisphere of the Earth, showing the crust, mantle, inner and outer core. Here are some of their creations:
Year 7 Visual Arts Students Creating First Artworks Using Pen and Pencil
Semester 2 Year 7 Visual Arts students have completed their first artworks using pen and pencil. Students have been working on understanding how to make a zentangle; the focus on strong composition using patterns with an emphasis on Australian flora and flora symbolism. Students will now be applying these skills in their next artmaking experiences. Ms Breen and Ms Fernandes are extremely proud of the works that students have been creating at home.
Year 7 Geography Students Participate in a Local Landscape Hunt
Miss Spelman encouraged her Geography students to take a break from the screen last week and explore their local environment (within lockdown conditions) as they participated in a 'Local Landscape Hunt'. Students have been learning about Landscapes and Landforms this term and were asked to explore, take photos and share information about their local landscape.
Paper Bridge Challenge
Would you expect a bridge made of paper to hold a weight of 20kgs? Well Elisha Z, Year 8 has shown that with innovative design it is possible! Elisha, in Ms Hartman's Technology Mandatory class, constructed her bridge from paper and paper straws.
Year 9 Dance Love Dressing Up
Ms Alimpic loves to have fun with her Zoom lessons and the Year 9 Dance class is joining in. Students have been appreciating the dance works of US choreographer Alvin Ailey and decided to imagine they were learning in the Hawaiian Islands as a chance to dress up in a Hawaiian theme and on another day the class were encouraged to bring their favourite stuffed animal to class dressed in dance attire.
Year 10 Visual Arts Examples Using Symbolism
Year 10 Visual Arts students reflected on the significance of meaning that an artist may establish in an artwork through the use of symbolism. Students looked at the eye as a symbol of truth, a symbol for revealing hopes and aspirations and a reflection of ourselves.
Year 11 Physics Investigate Electrostatic Charge
Year 11 Physics of Ms Reynolds were investigating the build up of electrostatic charge using friction. Students used balloons, plastic combs and their school jumpers to create an electrostatic charge.
Homeroom Activities
House Coordinators and Homeroom teachers are coming up with different ways to keep students connected and engaged each morning. Whether it be dressing up in House colours, Christmas in July, fitness challenges, Green and Gold Day for the Olympics or Fly Away Friday, these are just some of the activities which have been happening in Homerooms each morning.
Published on: 10 Aug 2021
CAREER NEWS
Western Sydney Careers of Tomorrow
An online parent information forum by industry leaders with an interactive Q & A is to be held on Wednesday 25th August at 5.30pm. This event will be hosted by The Department of Education and CathWest Innovation College. More details via the link below.
Published on: 12 Aug 2021
NOTICEBOARD
Term 3 Parents & Friends Meeting
All parents and carers are cordially invited to attend the Catherine McAuley Term 3 Parents & Friends meeting to be held online on Tuesday, 31st August 2021. The session will open at 6.20pm with the meeting formally starting at 6.30pm.
If you would like to attend please RSVP to jhamilton4@parra.catholic.edu.au and you will be sent a Zoom link for the meeting.
Kind regards,
Catherine McAuley P&F Committee
A Notice From Hillsbus
Hillsbus school services will resume normal operations from Monday, 16th August.
Catherine McAuley Community Business Directory
A reminder that the school has a Catherine McAuley Community Business Directory. This directory is a collection of parent owned businesses and is something you might want to consult when you are next looking for a particular item or service.
If you would like to be included in the directory please fill out the form in the link below:
Do You Follow The School On Social Media?
Did you know the school has pages on Instagram, Facebook and LinkedIn? Posts are made regularly to all pages and if you are a social media user they are a great way to stay informed of the many events and activities happening in classrooms and around the school.
Search for Catherine McAuley Westmead from within either of the platforms.
If you are an ex student or interested in Alumni news then you may like to also follow the Catherine McAuley Alumni Facebook Page. Search for 'Catherine McAuley Westmead Alumni Association'.
Published on: 10 Aug 2021