Term 3, Issue 7 - 23 JULY 2021
PRINCIPAL'S LETTER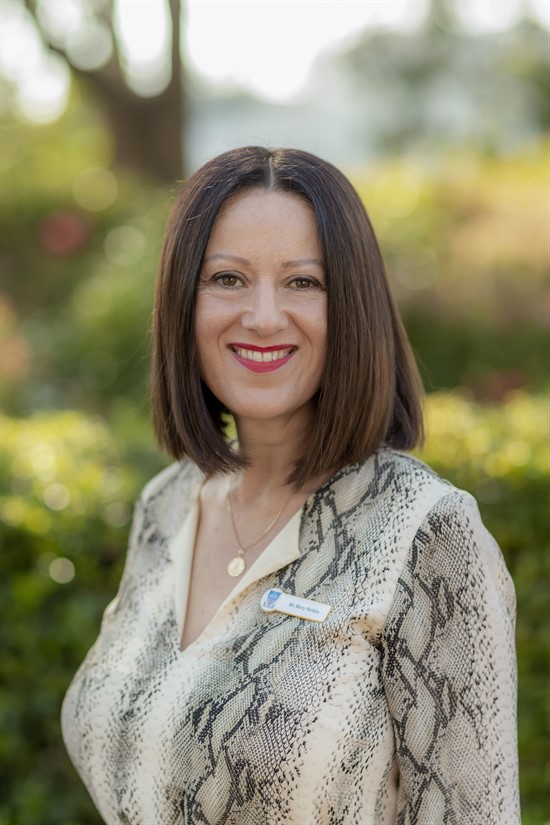 Keep on keeping on
We find ourselves once again limited by the confines of the pandemic that continues to be present amongst us. No doubt, the conditions of the lockdown place substantial pressure on all of us. At school, we are very aware of your daughters' needs and the importance of ensuring her education continues.
We hope that you enjoy this edition of our newsletter. Rather than our usual reports, we have collated images and descriptions of the wonderful work completed by students last term and this term. It really is a newsletter to celebrate our wonderful students. We hope you enjoy it.
Sincere appreciation for school staff
I wish to offer a very sincere thanks to the entire staff of Catherine McAuley. Teachers have been determined to ensure that lessons run smoothly and that learning is uninterrupted. Many additional teachers and support teachers are joining your daughters in their lessons to ensure they don't fall behind. In addition, office, library, facilities, specialist and IT staff are continuing to ensure the school is open and maintained. There is a lot of work going on behind the scenes, and I am sure you join me in acknowledging the school staff for their work during this lock down period.
Learning is uninterrupted
At this time we have had some very positive feedback from you and from your daughters about her engagement in her learning this term. If you follow our social media posts, and indeed as is evidenced in this newsletter, you will see a range of examples of exemplary student work, creativity and problem solving. We are very proud of all students and their efforts to maintain a strong learning ethic during their online classes.
As we continue to settle into this way of learning, we ask you to remain engaged in what your daughter is learning and to keep an eye on her participation in lessons. Nothing motivates a student more than the interest of her parents in her education. In addition, please talk to your daughters about Zoom etiquette: it is important that she does not take screen shots for the purpose of sharing images without the permission of those in the image.
I remind you of the protocols for students in remote learning and guide for parents in remote learning that have been sent to you previously.
Welfare and learning checks
Staff at school have been making calls to students' parents and carers over the last week to check that their daughters are not experiencing any difficulties in their classes. If you would like to speak to someone about your daughter's experience of online learning, please send an email to school to request a phone call (mcauleywestmead@parra.catholic.edu.au).
Absence from lessons
If your daughter is unwell, please continue to inform the school by sending an email to the school absence address (mcauleyattendance@parra.catholic.edu.au) Students who are not participating in lessons will be marked as absent without explanation, unless a justification for her absence is provided.
Year 12 students
Students in Year 12 have had a range of instructions. It is understandable that they may be feeling confused and stressed at this time. However, I ask them to remain confident in their teachers and their school: they are in very good hands.
As we know new information, we will continue to convey it to students. You may like to follow NESA's HSC Coronavirus Advice webpage for updated information regarding HSC plans.
You may also be wondering about your daughter's graduation celebrations. These, of course, will be designed around the restrictions in place at the time. We will communicate details of these events with you in a timely manner.
Financial support for families
If you require school fee support, please ensure you contact the school's Finance Officer, Mrs Smithard (mcauleyfinance@parra.catholic.edu.au). A link to a letter from Catholic Education Diocese of Parramatta inviting you to do this is also included at the end of this newsletter.
Draft New Curriculum in Religious Education
Yesterday we forwarded a letter from Mr Whitby, Executive Director, Catholic Education Diocese of Parramatta, about the 'pause' in the implementation of the Draft New Curriculum, Living Life to the Full. Whilst a great deal of work has already gone into developing this curriculum, further opportunity for research and design will enhance this curriculum even further. We look forward to sharing more with you as it comes to hand.
Mary Refalo
Principal


Published on: 13 Jul 2021
SOCIAL JUSTICE
$4,000 Raised For the Parramatta Women's Shelter Through The Lip Sync Competition
The Lip Sync Final was held last term on Wednesday, 23rd June at lunchtime in the Morley Centre. $4,000 was raised for The Parramatta Women's Shelter! Well done to Mercedes and Ryan Houses for organising this competition and to all students who paid a gold coin donation to watch the performances. There were some great performances across all year groups including a special one from the School Captains and the English Department!
Published on: 13 Jul 2021
STUDENT AND STAFF NEWS
Farewell to Denise Thomson, LOTE Teacher
The school farewelled Ms Denise Thomson, LOTE Teacher, at a staff morning tea on Thursday, 24th June. Ms Thomson is retiring after 53 years of teaching! 11 of these years have been at Catherine McAuley as a French Teacher.
Mr Forsyth, LOTE Coordinator and Ms Ruello, English Teacher, spoke about Ms Thomson's dedication to the teaching profession over her many years. We wish Ms Thomson a lovely retirement and thank her for her committment and care to students during her time at Catherine McAuley. The whole school community will miss you.

Farewell to Mrs Squillacioti
Catherine McAuley staff came together virtually on Thursday, 22nd July to farewell Mrs Squillacioti who has been at the school for 14 years. Staff held a virtual morning tea over Zoom.
Mrs Squillacioti started at the school in 2008 after leaving a career in law to become a teacher. Mrs Squillacioti was originally employed as a History teacher but has also taught Geography, Legal Studies and Society & Culture.
Mrs Howlett, History Coordinator and Mrs Noud, Social Science Coordinator, shared stories with staff of Mrs Squillacioti's time at the school and reminded staff what an incredibly competent teacher she is who goes above and beyond for her students.
Mrs Squillacioti will be sorely missed and the school wishes her all the best as she starts at The King's School North Parramatta.

Student Leaders Lifted Forum
On Thursday, 10th June four Year 12 students (Aimee H., Azeerayh M., Raia U. and Akansha N.), along with student leaders from another 25 schools across the Diocese of Parramatta, had an opportunity to join Bishop Vincent and his senior team for the annual Student Leaders Lifted Forum at Bankwest Stadium.
The students said this was a great opportunity to connect with the school leaders from different schools and share thoughts and perspectives about various topics including opinions on 'cancel culture' and 'wokeness'. The leaders were also asked to give their insight into the Catholic education system and possible future directions. As a whole the students said it was an amazing and valuable experience.
NSW Schools Titration Competition
Well done to the Year 12 Chemistry students who competed in the NSW Schools Titration Competition held on Saturday, 12th June. The school didn't place this year however teachers Mrs Manoogian and Miss Reynolds said that they are very proud of all the students who took part. "All the students worked so hard this term and were all amazing in the way they conducted themselves, represented the school and supported each other", they said.
Well done Titration Team!!
Year 11 Biology Students Undertake Field Study of SugarLoaf Hill
Late last term the Year 11 Biology students undertook a field study of Sugarloaf Hill located in Lane Cove National Park. Sugarloaf Hill contains numerous ecosystems which provide for the habitat needs of many species of native flora and fauna. Some, such as the red-crowned toadlet, are declared threatened species. Other, more common species, such as the long-nosed bandicoot, exist in isolated populations.
The field study was conducted through the Field of Mars Environmental Education Centre and students were involved in measuring a range of biotic and abiotic factors and also investigated how human activities can impact the habitats of the toadlets and bandicoots at Sugarloaf Hill.
Practical fieldwork is a mandatory component of the Preliminary Biology Course. Students have just begun work on Modules 3 and 4 on 'Biological Diversity' and 'Ecosystem Dynamics'.
Miss Sangeeta Raja
Science Teacher
CSDA Debating - A Season in Review
Catherine McAuley has always had a strong school culture of debating. Term 2 saw the continuation of this as a number of students from Years 7 - 12 represented Catherine McAuley at the CSDA Debating Competition. The competition commenced with the preliminary rounds taking place at different Catholic schools across Sydney on Friday evenings in the first six weeks of Term 2. Following a year of virtual Zoom debates in 2020, it was incredibly pleasing to be able to conduct this season face-to-face by hosting other schools, welcoming parents back on to spectate, as well as visiting other schools.
Ms Refalo acknowledged that during this debating season, students have truly demonstrated what it is to be a Mercy woman - one who strives for excellence, shows courage and integrity, and is hospitable at every occasion.
We congratulate and commend the following students for their commitment and dedication to debating in 2021:
Year 7 - Amelia A., Yasemin B., Maya F., Erin M., Milaniya N., Charlice P., Prasidha P. & Christi S.
Year 8 - Kaitlin C., Makayla D., Karen F., Niamh M., Amalija M., Grace R., Jasmine S. & Elisha Z.
Year 9 - Alyssa A., Amelia C., Mahika C., Chelsea G., Charlotte M., Grace R., Sacha S. & Jessica T.
Year 10 - Jacinta A., Michelle A., Mary F., Larissa L., Simone L., Jasmine O., Sophia P. & Aiza R.
Year 11 - Victoria C., Alannah E., Sofia F., Amy H., Anita M & Angelina M.
Year 12 - Jemma A., Lilly B., Mannat D., Ruheen D., Ruva K., Akansha M., Freya L., Davida S. &
Raia U.
Such events are seldom possible without the support of teachers - in particular we thank the coaches and adjudicators: Ms Lu, Ms Brennan, Ms Erkan, Mrs Howlett, Ms McGlone, Mr Grumley, Ms Barone, Ms Shipley, Mr Young and Ms Dito. We also thank Mrs Julie Brown (ex-teacher) and Easha Madappa and Annalise Awkar (ex-students) who returned to adjudicate debates and support our debaters.
Congratulations to our Year 8B Team who won 5 out of 6 of their debates and made it through to the Elimination Rounds. The girls spoke very well but were unsuccessful in progressing in the competition.
We congratulate the 10A Team who have made it straight through to the Quarter Finals! This round was due to take place in early Term 3 however, has been postponed due to the lockdown. We wish this team all the very best!
Student Experiences
"My debating experience has allowed me to develop positive relationships with my peers and learn the importance of collegiality and working cooperatively with others to establish and maintain an argument. I have also developed skills in written and oral communication which has allowed me to grow more confident in public speaking." - Erin M. (Year 7)
"Debating has encouraged me to remain aware of current events in the news and media as well as worldwide issues. This increased global awareness has allowed me to grow confident in expressing my thoughts and opinions and further develop skills of critical thinking." - Niamh M. (Year 8)
"Debating teaches you to have an open mind and approach a topic from all angles, because no matter if you're affirmative or negative, you have to do your best in convincing the adjudicator and audience that it's the best argument, sometimes when you previously didn't agree. Debating teaches invaluable skills and when you have a great network of speakers, friends and teachers (like Miss Raja and our adjudicators), you will most certainly grow into more of a confident, insightful person! As a whole, debating is a journey to cherish and learn so much from, and an experience that's going to stick with us forever." - Jemma A. & Akansha N. (Year 12)
Miss Sangeeta Raja
Debating Coordinator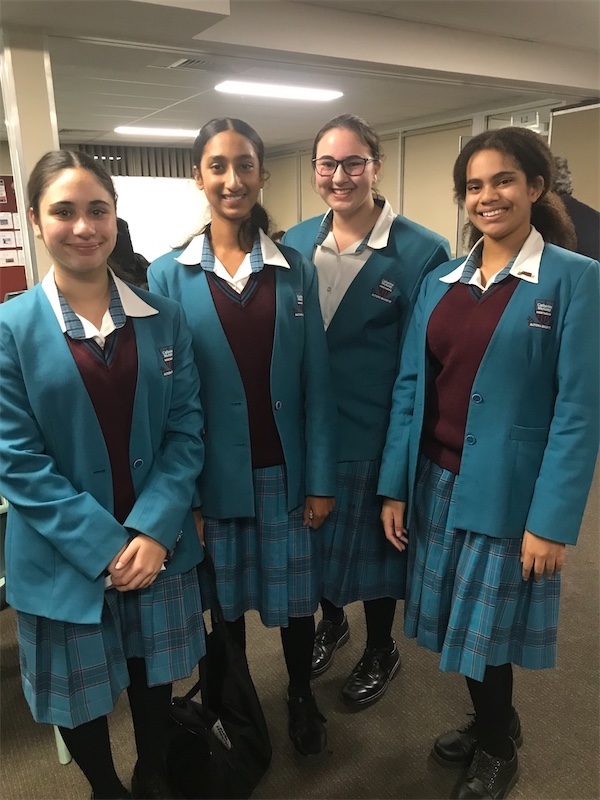 Published on: 13 Jul 2021
AROUND THE CLASSROOMS
Year 7 Visual Arts Drawing Australian Flora
Ms Breen's Year 7 Visual Arts classes have been drawing various Australian flora as inspired by their understanding of the artistic practice of contemporary artist, Edith Rewa. Ms Breen is very proud of her students' beautiful works!
Year 9 Food Technology Make Damper
Year 9 Food Technology students of Ms Mani enjoyed one of their practical lessons late last term where they were making 'contemporary damper' for their 'Food in Australia - Indigenous Cuisine' unit.
Year 9 Global Connections Students Create Gallery Displays
Last term students in the Year 9 Global Connections class with Mrs Noud were asked to research a contemporary geographical issue on a continent of their choice and created a series of gallery displays to inform viewers about this issue. Students chose issues ranging from the mistreatment of the indigenous people of Canada to the conflict between Israel and Palestine, the deforestation of the Amazon Rainforest to healthcare in the USA, the pollution in Antarctica to coral bleaching and pollution in our own Great Barrier Reef. Visitors were most impressed with the gallery creations and with the way students were able to discuss the various issues on display.
Year 11 Hospitality Coated Foods
Year 11 Hospitality students of Mrs Jarosevski recently learnt about 'coated foods' and different ways to plate and present these foods. The students prepared and cooked chicken schnitzel or crumbed haloumi, which was accompanied by a fresh Greek salad.
Around the Virtual Classrooms - Term 3
Year 7 English students of Ms Shipley have started a unit on Drama this term. Students are investigating the elements of drama and in class last week discussed the differences between a novel and theatre. They used Google Jamboards to note down their ideas with their teacher in a collaborative and interactive way.
The Year 7 students are now working on putting together a director's portfolio where they will design costumes, setting, lighting and stage directions for the play they are studying.
Year 10 Textiles students of Mrs Bonello are working hard on their textiles art practical project with students having to express what 'Journey' means to them. Last week in class the students and Mrs Bonello enjoyed a show and tell whilst also enjoying a hot/cold beverage.
Lockdown will not stop the McAuley Art Club!
Lockdown will not stop the McAuley Art Club! Normally students who have a love of art meet each Friday lunchtime in the school art rooms to participate in artmaking activities. Due to the current circumstances the Art Club has moved online!
Students joined in a Zoom last Friday with Mrs Lane, Miss Breen, Miss Brincat and Ms Robson to draw sunflowers together. Sunflowers are a symbol for hope and strength through difficult times. Some of these artworks are shown below.
The McAuley Art Club will meet again virtually each Friday during lunch. Students can look out for details in Compass.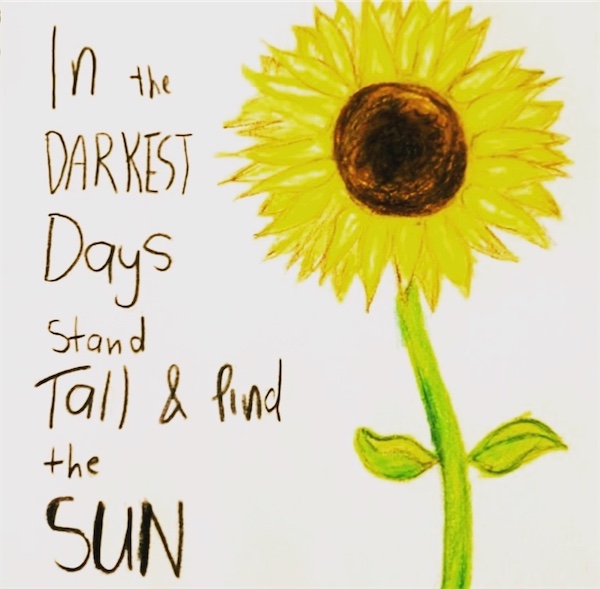 Year 9 Students Bring Their Pet To Homeroom
On Friday morning last week the Year 9 Homerooms held a 'Bring Your Pet To Homeroom Morning' with students introducing their pets to their classmates. Ms McCaul has sent in a screenshot from Year 9 Coolock and Ms Emanuel from Year 9 Veritas. Pets included dogs, cats, rabbits, birds and a lizard. There were some stuffed pets too!
Flying Birds - Moving Artworks Created By Year 10 Visual Arts Students
Check out these fantastic works from Year 10 Visual Arts students! The students are undertaking a drawing and time-based form unit of work with some samples of their work from last week shown below.
Follow the Catherine McAuley Westmead Instagram and Facebook Pages for many more virtual classroom updates.
Published on: 13 Jul 2021
SPORT NEWS
Senior AFL Team MCCS Champions for 2021
Congratulations to the Senior AFL Team who had a very successful season which saw them progress straight to the grand final undefeated. The grand final was held on Thursday, 17th June and the team continued their winning streak and were crowned MCCS Champions for 2021!
Junior AFL Team Runners Up in MCCS Competition
Well done also to the Junior AFL Team who played in their semi final on the same day and won in golden point to progress to the grand final immediately after and then lost to Marist North Shore. The Junior AFL Team were declared runners up in the MCCS competition.
Well done to all players and coach Mr Taniane.
Year 8 Netball Team MCCS Champions for 2021
Congratulations to the Year 8 Netball Team and their coach Miss Reynolds who won the MCCS Grand Final on Thursday, 17th June. The team played a great game against St John Paul II Catholic College.
Years 7 & 9 Netball Teams Runners Up in MCCS Competition
Well done to the Year 7 and Year 9 Netball Teams who also played in the MCCS Netball Grand Final with both being defeated. Year 7 lost by 3 to Marist Sisters Woolwich in what was a very close game after being undefeated all season and Year 9 lost to a very strong (and tall) St John Paul II Catholic College.

Athletics Carnival 2021
The Athletics Carnival for 2021 was held on Tuesday, 22nd June at Barton Park, North Parramatta. The day is always one filled with colour, cheers and competing and this year was no exception.
Click on the highlights video below for a good summary of the day.
The day began with the House Cheer Competition with the House Leaders from each House enthusiastically leading students through their rehearsed cheers. Congratulations to Caritas who were named the House with the best cheer!
1st Caritas
2nd Ryan
3rd Mercedes
4th Dobson
Cheers from each House can be viewed on the school's Instagram and Facebook pages.
The day concluded with the 100m Open Final (Fastest Girl) event. Congratulations to Chidiera E., Year 8, who was the winner with a time of 13.70 seconds.
1st Chidiera E., Year 8
2nd Bailey S., Year 7
3rd Angelique S., Year 9
Prev
Showing images
1 - 8
of 12
Next
Published on: 13 Jul 2021
NOTICEBOARD
COVID-19 Financial Assistance During Lockdown 2021
Catholic Education Diocese Parramatta is committed to supporting our families during this difficult time. Our long-standing principle remains that no child will be disadvantaged because of a family's financial circumstances.
Please read the letter below from Sarah Alder, Director Capital Resourcing, Catholic Education, Diocese of Parramatta.
Traffic Survey
Last week you received a survey asking about your thoughts on the traffic in the Westmead area. If you have not had the opportunity could you please take ten minutes to complete this now?
Your information provides valuable insights for us to discuss with state and local government transport stakeholders. The questionnaire closes Monday 26 July.
A Notice From Hillsbus
Please find links below to bus route changes commencing from 26th July 2021.
Route 2529 is removed from school bus advice due to no demand.

Route 8610 will have a path change.
We remind students they must have a valid Opal card to travel on school buses and must tap on and off morning and afternoon.
Public Transport Notice
Please be informed that Transport for NSW has instructed Hillsbus and other Sydney Metro bus operators to operate a Sunday timetable from Monday, 19th July 2021 for two weeks.
This means that school services will not operate. Parents should call 131500 or 9890 0000 for assistance with travel options should their student still be travelling by public transport to or from school.
Do You Follow The School On Social Media?
Did you know the school has pages on Instagram, Facebook and LinkedIn? Posts are made regularly to all pages and if you are a social media user they are a great way to stay informed of the many events and activities happening in classrooms and around the school.
Search for Catherine McAuley Westmead from within either of the platforms.
If you are an ex student or interested in Alumni news then you may like to also follow the Catherine McAuley Alumni Facebook Page. Search for 'Catherine McAuley Westmead Alumni Association'.
Published on: 13 Jul 2021