Term 4, Issue 12 - 26 NOVEMBER 2021
PRINCIPAL'S LETTER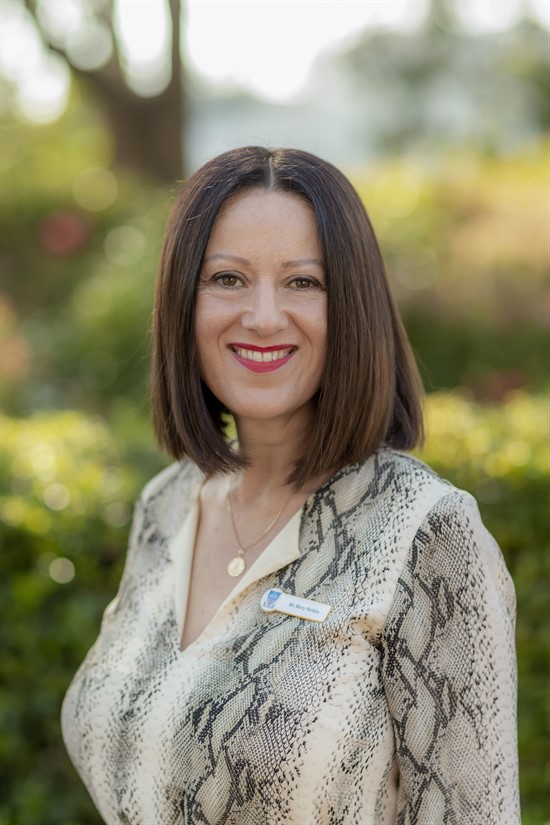 As the school year draws to a close, we are reminded of the continuity of life and the resilience of humankind.
There is no need for me to remind you of the turmoil that we experienced during 2021, and our constant need to respond to ever-changing demands. Moving out of lockdown and into a more regular rhythm has certainly brightened our days and given us a sense of normality. We notice students at Catherine McAuley easing back into their usual routines; they have picked up their friendships, they are applying themselves to their studies with diligence, and they are involving themselves in school life once again.
This is evidence of the resilience to which I referred in the first sentence of this reflection. Catherine McAuley students have demonstrated this in spades, and I congratulate them on their ability to bounce back with such grace and ease. They continue to meet the high expectations set by their school, and by you, their parents and carers. Students' reports will be published in Week 10 of term, and you are invited to attend virtual parent / student / teacher conferences during Week 11. Information about how to access the virtual conferences will be included in your daughter's report.
As we approach the last few weeks of school, please ensure your daughters continue to attend everyday to maintain the routines they have only recently re-established. If she is displaying symptoms of COVID-19, please have her tested and let us know the outcome of the test.
Many families are beginning their preparations for Christmas. As you do this, I would like to draw your attention to the fundraising efforts of the House Patrons and Leaders. This week they have launched two campaigns: students in Years 7, 8 and 9 are participating in a food drive for the Jesuit Refugee Centre, and Years 10 and 11 students are being asked to contribute to a gift voucher and Christmas cake drive for St Vincent de Paul. Further details are found elsewhere in this newsletter. Your daughters are always very generous in their donations, and I thank you in anticipation for this.
End of Year Activities
The final official events for the school year will take place on 10th December, 2021. Each Year group will have their liturgy and final year assembly, and the Awards Ceremony for Years 7 - 11 will also take place that day.
Whilst we are very keen to invite you, the parents and carers of our students, onsite for the Award Ceremony, the existing COVID restrictions do not permit us to do so. I do apologise that this is the case, and I hope you understand.
A more detailed calendar of events for Weeks 10 and 11 of term is included here.
Mary Refalo
Principal
Published on: 18 Nov 2021
FROM THE ASSISTANT PRINCIPALS
Health Concern: Young People and E-cigarettes / Vape Devices
It is becoming increasingly popular for young people to experiment or use e-cigarettes or vape devices. Catherine McAuley treats the use of e-cigarettes or vape devices in the same way it would treat smoking and cigarettes. Please refer to the School Planner, page 17A.
What are the Facts: Vaping in Australia (Extracts from Drug and Alcohol Foundation Website)
Adolescents (12-17 years of age)
In Australia, around 14% of 12 to 17-year-olds have ever tried an e-cigarette, with around 32% of these students having used one in the past month.

Students who had vaped most commonly reported getting the last e-cigarette they had used from friends (63%), siblings (8%) or parents (7%). Around 12% of students reported buying an e-cigarette themselves.
The legal status of vaping in Australia
From Friday, 1st October 2021, all nicotine vaping products – including nicotine e-cigarettes, nicotine pods and liquid nicotine – can only be purchased with a doctor's prescription. This includes both in Australia and from overseas. Nicotine vaping products can only be legally used by the person named on the prescription; they cannot be legally supplied to friends or family members in Australia or overseas. See here for further information.
Nicotine-free vaping devices and e-liquids can be legally sold and purchased in most states and territories through online retail stores and tobacco retail outlets.
Young people who vape nicotine are exposed to a toxic chemical that can harm adolescent brain development (the brain continues to develop until the age of 25) and lead to dependance. There is also some evidence that vaping nicotine is associated with later tobacco use among teenagers.
Talking about vaping with young people.
Are you concerned about a young person who may be vaping? Having a conversation about it might feel tricky, but it's always a good idea!
Start with information Get the key facts, learn the basics about vaping products

, and think through what you want to say. Consider some questions you might be asked, and how you want to respond.

Approach it calmly

You might want to start the conversation when you're doing an activity together, such as driving or preparing a meal. Keep things casual and relaxed. You might want to use something you saw in a TV show or on the news as a chance to bring up the issue.

Don't make assumptions

If you think they may have tried vaping, avoid making accusations. Going through someone's space looking for evidence isn't recommended, because it can undermine trust.

Avoid judging or lecturing

Listen to their point of view and keep it a two-way conversation. Being mindful to keep your body language and tone respectful can go a long way. If they have tried vaping, try asking questions like: 'what made you want to try?' and 'how did it make you feel?'

Don't exaggerate

Make sure you are honest with them about potential harms and avoid exaggerated statements.

Focus on health and explain your concerns

Focus on how you care about them and want them to be healthy. For example, if they are vaping nicotine you can say that you are concerned about the evidence that this can affect adolescent brain development.
Creating Positive Habits (from: Dr Prue Salter - The Study Skills Specialist)
How many times have you said or perhaps have heard, "I'm just not motivated to ……" – I am sure you can fill in the blanks! But maybe motivation is not actually the answer.
Sure we need motivation, especially to start a task or a project or a new wellbeing habit like exercise. Often we know what we need to do, we know that it will be helpful and beneficial but, we don't do it and, the excuse is often, "I'm not motivated enough".
When students are asked what happens when they receive an assignment, they admit they often leave it to the last moment. They say, "I only ever get motivated at the last minute, the night before". They are really confusing motivation with desperation.
The point is that even last-minute desperate actions to complete an assignment are NOT filled with enthusiastic motivation. You can "not be motivated", and despite your feelings, still take action.
That's because, as human beings, we are driven by the need to avoid pain and gain pleasure. The flurry of activity the night before is not motivation but more an attempt to avoid pain. So rather than relying on whether you feel motivated to take positive action, build a positive habit instead.
Programming A Habit: Routine, Reward and Cue
It may take up to two months to create a new habit. The first 21 days can be the most difficult. To persevere until you create your positive habit, you need to:
Identify the habit. What could be one simple thing (

routine

) you could do everyday to make life more fun, happy, fulfilling, hopeful and peaceful, or one thing that will help you reach your academic goals?

Why did you choose that? Write down three reasons why this habit will make a positive difference in your life.

Give yourself a

reward

for following through and taking action to build your positive habit each day.

What's your trigger? How will you know it's time to take action on that positive habit? Here you need to identify a

cue.

A cue can be anyone of the following: Person, Place, Thing, Environment. A cue is like a trigger, a signal that it's time to take positive action.
To summarise, use motivation to start creating a positive habit in your life. Habits are automatic and don't require motivation after you have it programmed.
To remove negative habits in your life, create more positive habits. The more positive habits in your life, the more negative habits tend to fall away.
What positive habits can you develop this Christmas holiday?
You can learn more about this and much more at https://studysamurailibrary.com/
Our Schools log in details are Username: McAuley Password: 189results
Christmas Themed Thursday
On Thursday, 9th December 2021, students may wear a Christmas theme clothing item with their Sports Uniform or School Uniform. As students in Year 7 - 10 are involved in sport on Thursday afternoon they will need to wear joggers or sandshoes on this day to meet Work Health and Safety requirements.
Debbie Grigson
Assistant Principal
Published on: 18 Nov 2021
Dear Catherine McAuley community,
Recently we have noticed an increase in the amount of inappropriate mobile phone use at the school. Despite the ubiquity of these devices in all of our lives, there is significant research around the level of distraction mobile phones can cause to students' learning and appropriate socialisation. As a consequence, Catherine McAuley has long-held clear expectations around our students and their access to their mobile phones during the school day. I draw your attention to the following school procedures document which outlines our expectations around mobile phone use; Responsible User of Mobile Technology procedures
An excerpt is provided below;
Catherine McAuley takes no responsibility for the safety of any mobile device including a mobile phone when brought to school.

Students should keep their mobile devices in their locker which should be locked at all times, or left at Student Reception.

The mobile device must be switched off during the school day and not used during class time unless as part of the learning in consultation with the teacher.

If a mobile device is used inappropriately or rings/beeps during school hours it will be confiscated (including sim card) by the teacher and stored in the school safe. Students may collect the mobile device from the School Office, at the end of the day.
In response to some of these occurrences, we have arranged for our Police School Liason officer, Constable Daniel Smyth, to speak with several year groups on Monday. This will be a general discussion around the potential dangers of sharing personal information online. The aim of this session will be to educate our girls rather than discourage mobile use entirely. As parents, if you would like some guidance as to how to improve how you monitor your daughter's mobile use or how you can assert more appropriate parental control over their use, please see the following resource from the eSafety commissioner; https://www.esafety.gov.au/kids

Take care and God bless.

Jaie Skinner
Assistant Principal
Published on: 26 Nov 2021
FROM THE RELIGIOUS EDUCATION COORDINATOR
Last Sunday, the Church celebrated the Feast of Our Lord Jesus Christ the King. The feast was instituted 96 years ago by Pope Pius XI in 1925. Pope Pius XI was responding to the signs of the times during the period between the World Wars and the rise of fascism. In this tumultuous period of history, Pope Pius XI saw the urgent need for the people to know Jesus Christ. Today as we are living through a time of global pandemic, Pope Francis has constantly reminded his listeners about Jesus' presence in our lives.
Recently much has been said about Queen Elizabeth II's stay in hospital and her absence from significant calendar events. While she has been the longest serving monarch on the British throne, there will always be a sense of fragility as her reign will end with her death. Jesus Christ is the only monarch whose reign was founded and not ended by his death. Jesus' kingship rejects the way of violence and breaks the never ending chain reaction of hate.
As Catholics we believe that Jesus' death is our ransom from death; his throne is the Cross. Yet Jesus at the same time is risen, he reigns both in death and in the new risen life. Jesus is a ruler who gives himself wholeheartedly, unstintingly, humbly and without counting the cost. For those who witnessed Jesus' trial, the differences between Jesus and Pontius Pilate could not have been any wider. Pilate was very much a flawed character who ruled with little regard to the law or without any care for his subjects.
This coming Sunday we begin the new liturgical year with the First Sunday of Advent. As we prepare with hope for the coming of the Prince of Peace, may we remember that Our Lord Christ the King desires our presence in the Kingdom of God.
Genevieve Banks
Religious Education Coordinator
Published on: 18 Nov 2021
SOCIAL JUSTICE
Christmas Hamper Appeal
The school has launched the 2021 Christmas Hamper Appeal! This year Years 7, 8 and 9 will be creating hampers for JRS (Jesuit Refugee Service) and Years 10 and 11 will support St Vincent de Paul.
On Wednesday morning this week in Mercy Square the House Patrons and House Leaders distributed the baskets for each Homeroom to use as they collect their hamper items.
Students in Years 7, 8 & 9 are asked to bring in non perishable food items such as basmati rice, cooking oil, longlife milk, biscuits and also other grocery items including nappies, laundry powder and toiletries.
Students in Years 10 & 11 are asked to bring in a Christmas cake or a Coles/Myer or Westfield gift voucher.
Thank you to all families for helping support the JRS Christmas Hampers and the Vinnies Christmas Appeal.
Published on: 25 Nov 2021
STUDENT AND STAFF NEWS
HSC Visual Arts Showcase
Catholic Education Diocese of Parramatta has put together an 'Articulate Showcase' celebrating the efforts of Year 12 Visual Arts students and their teachers from around the Diocese. The showcase displays some of the Visual Arts Body of Works completed by the students. This year had many challenges and some works were unresolved or part of a larger piece that was not fully realised due to lockdowns.
CEDP invites you to explore the gallery of works and appreciate the courage and determination of our young artists. Click on the link below to explore the gallery:
Science Competitions Held This Year
Congratulations to those students who took part in the Science competitions held this year. Students took part in the International Chemistry Quiz, a nationwide assessment of chemistry knowledge and a student's understanding of the subject and the Big Science Competition, a 50 minute, multiple choice competition testing science knowledge, critical-thinking and problem-solving skills.
Students who received awards are listed below.
International Chemistry Quiz 2021
Sixty six students in Years 9 to 11 participated in this competition. The following students received an achievement of credit and above.
High Distinction: Victoria C. (Year 11)
Distinction: Chelsea L., Michelle S. (Year 9) Nikita B. (Year 10) Nishika J., Naveena N. (Year 11)
Credit: Nathania L. (Year 9)
Big Science Competition 2021
Fifty two students in Years 7 to 10 participated in this competition. The following students received an achievement of credit and above.
High Distinction: Jasmine O., Ruby W. (Year 10)
Distinction: Alana S., Michelle S., Sanjna C. (Year 9) Annamika S., Claudia N., Nikita B., Simone L. (Year 10)
Credit: Amelia A., Iniya P. (Year 7) Daphne C., Fabiola P., Gabriella E., Joaquina J., Karen F. (Year 8) Angel N., Elna K., Erica J., Kayla T., Maddison B., Veronica F., Wytske L., Zoe A. (Year 9)
Charlotte N., Liya N., Liz S., Sophia P. (Year 10)
Belinda Manoogian
Assistant Science Coordinator
Environment Leaders Attend NSW Earthcare Youth Summit
The Student Leaders of Environment, Charlotte T. and Emily O. attended the NSW Earthcare Youth Summit on Wednesday, 10th November which was held via Zoom conference and organised by Caritas Australia and The Australian Catholic Bishops Conference.
The purpose of the event was to gather environmental leaders from NSW Catholic schools to spread awareness and enthusiasm about caring for and protecting creation and responding to the Laudato Si made by Pope Francis.
The theme for this year is 'From Little Things, Big Things Grow'. The day included writing poetry centred around our planet and creation; listening to a speech from Bishop Vincent; interviewing keynote people such as Ann Marie Brennan, COP26 representative and representatives from The Sisters of Kiribati (Kiribati is a low lying island country in the Pacific); and participating in a 'befriend a tree activity'.
It was wonderful to attend this conference with students from other schools including Mt St Benedict College, St Scholastica's College, St Mary Star of the Sea College and Stella Maris College.
Charlotte T., Leader of Environment and
Emily O., Assistant Leader of Environment
Year 9 Visual Art Works On Display in School Reception
Selected Year 9 artworks, inspired by the practice of contemporary Australian designer and illustrator Inga Campbell, have been put on display in the foyer of the school office for all visitors to enjoy.
These fineliner artworks have been created in the 2D expressive form of drawing and were part of a unit of study that explored suburban spaces. Visual Arts Teacher Miss Breen said that the students demonstrated great technical strength in composition and material refinement in creating their works.
The students were delighted to be invited to morning tea with School Principal Ms Refalo and Assistant Principal Mr Skinner on Tuesday, 9th November to celebrate the hanging of their works.
The student artists who have their works on display include:
Natasha A., Matea N., Sophia B., Riya R., Lizelle L. and Mariel L.
Year 9 Leadership Training Day
Year 9 students took part in a Leadership Training Day earlier this month led by yLead, an organisation whose philosophy is to "create unique learning experiences that empower young people to be their best and make a positive difference in their world."
The training sessions were held via Zoom and were aimed to encourage the development of leadership skills that Year 9 students will be able to use in the workplace, in school leadership and in social situations. Emphasis was placed on the fact that as senior students next year the students will all be leaders, whether they are in an official leadership role or not and it is a responsibility that they must all take on.
At the completion of the training session the Year 9 students were invited to apply to be Peer Mentors to work with Year 7 students on a Thursday afternoon throughout 2022.
Tracy Cowling
Year 9 Coordinator
Year 8 Students Take Part in 'Pitch For the Planet' Competition
A small group of Year 8 students, perhaps the next generation of Australian innovators and entrepreneurs, took part in the 'Pitch For The Planet' Competition this week run by The Orbispace Initiative.
The Orbispace Initiative is a charity who seeks to inspire and equip the next generation with the skills and mindsets needed to succeed in a rapidly changing physical and digital landscape.
Over two days on Tuesday and Thursday the students took part in the online sessions where they worked in teams to solve a pressing environmental issue and plan a sustainable product. On Tuesday's session the students were mentored by female innovators and on Thursday they pitched their idea to the judges.

Notecards Printed Featuring Year 7 Art Works
A selection of artworks from Ms Breen's Year 7 Visual Arts class have been professionally printed and made into notecards for use by the School Principal. Ms Breen had selected four works to feature on the blank cards which feature the artwork and the name of the student artist on the front. The artworks show Australian flora and were inspired by the student's understanding of the artistic practise of contemporary artist, Edith Rewa.
The four student artists joined Ms Refalo, Mr Skinner, Ms Lane, Mrs Hamilton and Carmella, Student Assistant Leader of Culture in a morning tea on Tuesday this week to celebrate the launch of the cards.
Published on: 18 Nov 2021
AROUND THE CLASSROOMS
Year 7 Visual Arts Students Learning Watercolour Techniques
Year 7 Visual Arts students were learning watercolour techniques this week as the next group of students started their self portraits. Ms Breen was demonstrating to the students how to blend and bleed their watercolours while students of Ms Fernandes began their portrait.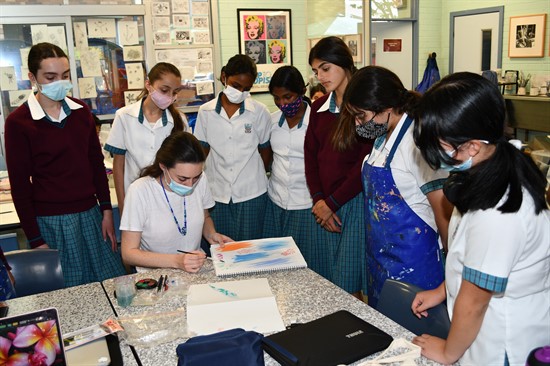 Year 8 Religion Create Learning Activity 'Three Facts and a Fib'
Ms Morrison's Year 8 Religion class has been learning about Religion in the World. Students worked in groups to create a learning activity for their peers called 'Three Facts and a Fib'. Each group had to focus on identifying which information was factual and which information was a 'fib'. Groups needed to support their findings with reliable evidence which was accurately referenced. Students marked each other's work and provided their peers with feedback and feed forward.

Year 8 Music Students Learning Guitar
Listen to some of the Year 8 Music students learning guitar with Ms Picone this week.
Year 10 Music Students Working on Performance Piece
Year 10 Music students are busy preparing for the online performing arts night. The Year 10 students are working on two pieces of music - a joint class piece and a smaller ensemble piece.
Year 11 Biology Using Playdough to Model Meiosis
Year 11 Biology students of Mrs O'Connell were using playdough to model the complex process of meiosis. Meiosis is a process where a single cell divides twice to produce four cells containing half the original amount of genetic information.
Published on: 18 Nov 2021
LIBRARY NEWS
Overdue Books
During the COVID-19 lockdown period the school suspended the overdue notices. Now that we have been back on site for a number of weeks we have resumed our collection of overdue books. Can students please read their emails and return any outstanding books as soon as possible? If you believe you have misplaced the book or are receiving an email in error then please come into the library and speak to our friendly staff about your options.
E-Magazine Collection
Our ebook/ audiobook platform SORA now gives students access to over 400 magazines.
The magazines cover topics on all subject areas but also include many for recreation ranging from sport to cooking, crafting, technology and puzzles! These magazines are 'always available' meaning there are infinite copies so you can borrow them at any time. These titles are fully integrated in the SORA search function so jump on to SORA today and search for a topic which interests you to get started.
Published on: 18 Nov 2021
CAREER NEWS
Access The Latest Career News Through Job Jump
Job Jump is a weekly careers newsletter which students and parents are encouraged to read for the latest news related to careers. The newsletter often has information about great events that students can attend that can enhance their career research.
Please see below the latest editions of the Job Jump newsletter. Students and parents can subscribe individually - please email Mrs Chahine for the school password.
Published on: 18 Nov 2021
NOTICEBOARD
School Booklists and Stationery Lists for 2022 Are Now Available
The school booklists and stationery lists for each Year group are now available. This information was emailed to parents and carers during the week.
A PDF containing these lists is available via the link below.
A Message From The Uniform Shop
A reminder that the last trading day of the school uniform shop for current students will be Monday, 13th December.
Catherine McAuley Community Business Directory
A reminder that the school has a Catherine McAuley Community Business Directory. This directory is a collection of parent owned businesses and is something you might want to consult when you are next looking for a particular item or service.
If you would like to be included in the directory please fill out the form in the link below:
Do You Follow The School On Social Media?
Did you know the school has pages on Instagram, Facebook and LinkedIn? Posts are made regularly to all pages and if you are a social media user they are a great way to stay informed of the many events and activities happening in classrooms and around the school.
Search for Catherine McAuley Westmead from within these platforms.
If you are an ex student or interested in Alumni news then you may like to also follow the Catherine McAuley Alumni Facebook Page. Search for 'Catherine McAuley Westmead Alumni Association'.
Published on: 18 Nov 2021