Term 4, Issue 11 - 5 NOVEMBER 2021
PRINCIPAL'S LETTER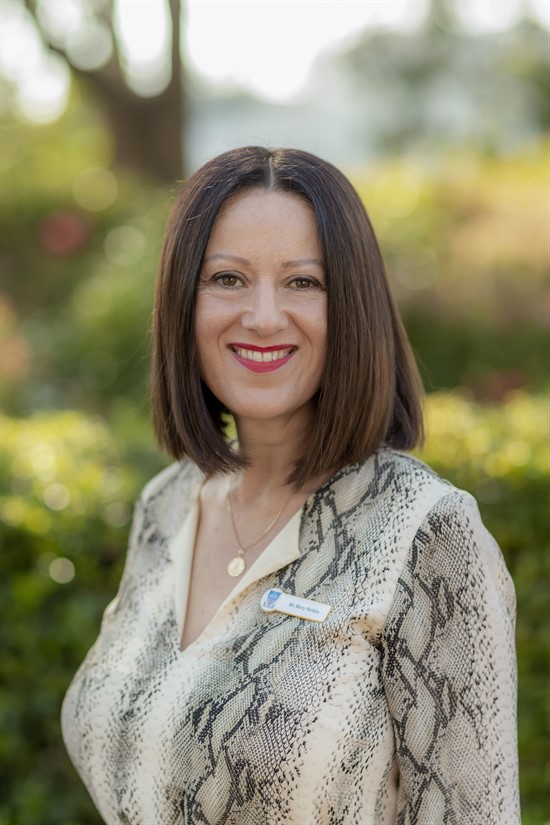 Well Done and Good Luck to Year 12
Today marks the final day of school for Year 12 students. Their school journey has been marked by the joy of friendships, the thrill of challenge and the humility of difficult times.
I would like to acclaim each one of them for their tenacity and resilience, their kindness and love, their respect and calm. I would like to honour them for being Mercy women, showing excellence, integrity, justice, hospitality and courage in all that they do, and for being faithful to their God.
HSC examinations for these students begin on Tuesday. The Catherine McAuley school community wishes them luck; we know they've got this well in hand. We look forward to celebrating with them on 3 December, 2021, at their final graduation.
Attendance in Week 6
As was communicated last week, students will attend school next week on the following days:
Monday, 8 November, 2021

Years 10 and 11

Tuesday, 9 November, 2021

Years 7, 8, 9

Wednesday, 10 November, 2021

All students in Years 7 - 11
The Catherine McAuley COVID Safe Student Guidelines are attached. As Government restrictions begin to ease, we are making onsite adjustments as needed. Still, though, safe hygiene practices and mask wearing remain mandatory.
I am pleased to let you know that parents and visitors are permitted to attend the school's reception area from Monday if they are double vaccinated. All visitors will be asked to show their vaccination status, and those not fully vaccinated will be denied entry to the site. Visitors will also be asked to sign in using the school's QR code.
Mary Refalo
Principal
Visit the School's Instagram or Facebook pages for a selection of photos from the last day of school before exams for Year 12 students.
Published on: 21 Oct 2021
FROM THE ASSISTANT PRINCIPAL
Study Samurai Library Tip for November - Making the Most of Classtime
(from: Dr Prue Salter - The Study Skills Specialist)
There are many advantages apart from deeper learning and improved results to making the most of classtime. By completing more work in class you will have less to do at home, your teacher will be pleased with your application and so will your parents when they read your report, and of course, you will learn more! And if you don't use classtime efficiently? Well you will have to do more work at home, you will find you don't always understand the work, your teachers will have to be continually disciplining you and you may even make it harder for other people in your class to learn. It's a no-brainer!
What does working effectively in class mean?
Sit next to someone who will help you stay on task rather than someone who distracts you.

Ask questions whenever you are unsure, unclear or do not understand something.

Be polite and respectful of your teacher and your classmates at all times.

Come prepared to the lesson with all the books, technology and equipment you will need.

Contribute your thoughts and ideas at the appropriate times.

If you find yourself day-dreaming, ask yourself questions about what is going on or take notes about what is being discussed so you regain your focus.

Try at all times to stay on task and be engaged in the work you are doing.
Learn more this year about how to work effectively at home and at school by working through the units on Study Samurai Library. Our school's access details are: Username: mcauley Password: 189results
As students continue to transition back to face to face learning I provide the following information regarding starting the day for success. This is a follow up to the previous Newsletter article "Why Sleep is so Important".
Starting Your Day For Success
No one knows what tomorrow will bring. We can't control every event or circumstance we experience and respond each day. However, the happiest, most successful people on the planet Design their Day!
Why The Morning Is So Important
Your mornings are the most important part of the day.

Create positive routines and habits in your mornings.

The way you start your day has a massive impact on how you experience the rest of the day.

When you wake up tired and exhausted, when your mornings are rushed and chaotic, when you say NO to your day, your day goes from "bad to worse"!

Start your day with the direction and experience you desire. Focus on that direction and don't engage in things that take you away from that.
5 Tips To Get You Out Of Bed And Awake In The Mornings
Set your intention w

hen your head hits the pillow to get the quality of sleep you need.

Move the alarm to the other side of the room so you need to get out of bed to stop it.

Brush your teeth.

Drink water and hydrate.

Dress or shower.
5 Tips To Start Your Day On A Positive Note
Silence

: start every morning with a period of purposeful silence. If this is new to you start with 3 to 5 minutes of sitting in silence.

Close your eyes, relax your body, and focus on your breath. It's one of the best ways to reduce stress.
Affirmations:

create new positive stories or affirmations about what you want and more importantly who you are!

Visualise:

what you want to experience in your day, what you need to do and the person you need to be.

Exercise:

helps you lift your mood, boosts not just your physical but also your mental state.

Read:

something inspiring, that develops you personally.

Music

is also a great way to start your day well.
What else can you add?
You can learn more about this at www.studysamurai.com in the WELLBEING MODULE - Topic 4: Starting Your Day For Success. Our school's access details are: Username: mcauley Password: 189results
Student Leadership Opportunities
Catherine McAuley encourages students to seize every opportunity. Leadership is a journey.
Catherine McAuley endeavours to provide opportunities for the development of leadership in all students by encouraging them in their responsibilities, involving them in decision-making processes and allowing them to take initiative and be creative. Every student is encouraged to show initiative and exhibit leadership in all that they do. There are many occasions and opportunities to develop and exercise leadership skills.
Principles for Student leadership
Within our community some individuals will be called to special leadership roles to ensure the welfare of all is promoted.

Leadership that is authentically Christian will be lived out in terms of genuine service.

Leaders in special leadership positions should actively facilitate the involvement and participation of others in leadership initiatives and in the decision-making process.

The belief in one's own dignity and that of others are fundamental prerequisites vital for leadership.
Leadership is a paradox:
It is about serving others. It is about building pride. It is about humility. It is about belief in yourself. It is about putting others before you. It is about standing alone. It is about being at one with people.
The school has identified important characteristics of leaders:
Confidence

Self-esteem

Interpersonal skills

Responsibility

Participation

Organisational skills

Ability to lead and motivate others

Pride in oneself and in one's school

Ability to act effectively

Moral courage

Compassion
In the coming week current Years 7 - 9 students will have the opportunity to nominate themselves for one or more of these leadership positions for 2022. A student may represent their Homeroom class as a Liturgy Leader, a member of the Student Representative Councillor, Mercy in Action Representative or House Leader.
The application information and process will be available via the Student Intranet and highlighted in the Compass News Feed. Students with questions can refer these questions to their House Patron who is overseeing the process.
Debbie Grigson
Assistant Principal
Published on: 21 Oct 2021
COUNSELLOR'S CORNER
The Department of Family and Community services are offering up to 1,200 scholarships to students enrolled in education (Year 10-12) or training in 2022. To be eligible, you must be living in Public Housing, or community housing, supported accommodation, being on the NSW Housing Register (Wait List), receiving private rental assistance from Dept. of Communities and Justice. Each successful student will receive $1000 to help with school expenses and secondary support services.
Applications are now open until 5pm, Friday 18 February 2022 to submit on
https://nsw-dcj.smapply.io/
If you require further information do not hesitate to contact the school or click on the link provided below-
https://www.facs.nsw.gov.au/families/support-programs/all-families/youth-development-scholarships
Suzan Boulattouf
School Counsellor
Published on: 21 Oct 2021
FROM THE RELIGIOUS EDUCATION COORDINATOR
In our Catholic tradition, November is traditionally a month of remembrance for the dead. From the earliest days of the Christianity, the Church has honoured with great respect the memory of the dead. November began with the Solemnity of All Saints on Monday, 1st November and on Tuesday, 2nd November the Commemoration of the All the Faithful Departed (All Souls' Day).
Belief in the resurrection of the dead is an essential part of Christian revelation. It implies a particular understanding of the ineluctable mystery of death. Death is the end of our earthly life, but as St Ambrose wrote not of our existence since the soul is immortal.
In November we particularly pray for our loved family members and friends who have gone before us and whose loss we feel. In our grief, let us find comfort in the knowledge that death is the passage to the fullness of true life of being with God for eternity.
This year in Mercy World, on Thursday, 11th November, we remember the 180th anniversary of Venerable Catherine McAuley's death. May we remember the many women and men who have gone before us and who like Catherine McAuley have responded to the challenge of faith in their time—with faith, hope and love.
Genevieve Banks
Religious Education Coordinator
A Prayer of Remembrance
God, thank you for the special people in our lives whom we are remembering in a special way during the month of November. We thank you for being a compassionate God who walks with us.
In our dark moments of grief and loneliness. We are thankful for all who continue to love and support us through our grief. Lord, continue to be a light for us, giving us hope, direction and courage. May we now live our lives treasuring the memories of those special people we have known and loved and help us to bring light and hope to others. We make this prayer through Christ our Lord.
Amen.
Published on: 21 Oct 2021
STUDENT AND STAFF NEWS
Pat-M and Pat-R
All students in Years 7 - 9 will complete the Pat-M and Pat-R tests during Week 6 and 7. The purpose of PAT-R is to monitor student progress in reading and to provide teachers with diagnostic information for setting realistic learning goals and planning effective programs. PAT-M allows us to gain additional insights into the mathematical growth of our students. These tests will take place during class time and there is no preparation that the students need to do.
Higher School Certificate
Year 12 students will begin their HSC on Tuesday, 9th November. Information regarding the HSC protocols were emailed to Year 12 parents and students last week. We wish Year 12 students the best of luck in their HSC exams.
Sharon Brincat
Acting Director of Studies
Plant the Seed Is Launched!
On Monday this week the 'Plant the Seed' online mental health awareness program, organised by a dedicated group of Year 11 students, was launched. The students would love you to follow them at @planttheseedofficial.
This seven week campaign is designed to educate young people about the importance of caring for mental health and each week the campaign will explore a different tip and how it relates to their followers. On Sunday each week there will be a reflection and prizes to be won!
Let's help the students increase their follower count and give them a follow! @planttheseedofficial
Year 11 Legal Studies Students Represent McAuley in the Kirby Cup Mooting Competition
On Monday, 25th of October, eight students from the Year 11 Legal Studies cohort represented our school at the 2021 Kirby Cup High School Mooting Competition. This is a competition run by the School of Law within the University of Western Sydney.
Moots involve a legal problem scenario that requires parties who participate to put forward legal arguments, in an attempt to resolve the legal issues that arise from the scenario. In essence, the process of mooting involves students arguing points of law before a simulated court. Mooting is a process that is used in many universities to prepare law students for the requirements of advocacy in the courtroom.
Our students met several times during lockdown via Zoom to prepare their written submissions on the case. They rose to the challenges of the online environment and worked well in their teams and with their coaches, Mrs Nicolson and Ms Torresan. On the day of the competition, our two teams competed in two rounds against other schools across Sydney. They had to present their legal arguments to the judges, many of whom are barristers and members of the legal profession themselves. Throughout the moots, students had to display effective advocacy for their respective clients, and to problem-solve, as the judges would question them about their submissions and other points of law.
Both teams displayed great public speaking skills and demonstrated their strengths in understanding the law at hand, and how to effectively advocate for clients in a legal setting. The opportunity to participate in a moot, and to be questioned and given guidance from legal professionals, has been of great assistance to the students and is invaluable in allowing them an insight into the qualities/ skills needed for a career in the legal profession. The process of understanding the facts of the case, relevant legislation, and precedent cases have also given these students an opportunity to develop and refine their understanding of the law and apply it to their studies.
We had two teams compete in the competition, with one team progressing to the top eight schools in the competition. However, they were knocked out in the quarter finals. We are tremendously proud of these students, being the first year our school has entered this competition. The resilience, motivation and adaptability they have shown to prepare and participate in this competition, and in the 'virtual world' is a testament to these students.
Students who took part in the Kirby Cup: Madison A, Tanya F, Jacintta G, Geetali K, Layla L, Sandra M, Clare S and Egieneille T.
Natalie Nicolson
History/Social Teacher
Year 10 Visual Arts Stop-Motion Animation Short Films
Year 10 Visual Arts students of Mrs Lane have finished the short films they were working on during lockdown and the results are wonderful. Inspired by the theme 'Moments of Beauty' students were required to create scenes to demonstrate to the audience moments of awe and wonder through interactions with nature and the people around us.
Daanya A. submitted a beautiful short film which can be viewed below. Mrs Lane said Daanya has demonstrated dedication, commitment to high quality products, a deep understanding of the use of artmaking materials and strong concept development. Mrs Lane also said that the role of reflection and documentation of Daanya's progression is exceptional.
In her Artist Statement Daanya said that her short film 'Together' is reflective of the idea that being together is better than being alone and with the bonds we form comes a responsibility of maintaining individuality yet adjusting to accommodate to the significant other. Daanya also says that she used the recurring image of a butterfly to show that wings carry you into new directions and inspire self-growth, which is reflected by the blooming of flowers which show the development of our individuality, whether it be ugly or beautiful.
Year 10 Student Has Speech Read Out In Federal Parliament
Year 10 student Reya R. had a speech read out in Federal Parliament on Monday, 18th October as part of the 'Raise Our Voice in Parliament' campaign spearheaded by social enterprise Raise Our Voice Australia. Reya's speech was one of those selected to be read out and it was Julie Owens MP, Member for Parramatta who read Reya's speech.
In her speech Reya outlined where she would like to see Australia twenty years into the future. She hopes it is a place where women and minorities are heard and represented in parliament and other leadership roles and is a country that changes the way it sees migrants and refugees.
View footage of Reya's speech being read out here. https://youtu.be/aVWmig6b5SE
Published on: 21 Oct 2021
AROUND THE SCHOOL GROUNDS
The school grounds have come alive again with the voices of students and teachers! Year 12 returned for workshops on Monday, 18th October; Year 11 followed for classes on site starting Monday, 25th October; Years 7 and 9 returned for their first onsite day on Tuesday, 26th October and Years 8 and 10 followed on Wednesday, 27th October.

Published on: 21 Oct 2021
CAREER NEWS
A couple of events which may be of interest to students and parents.
Careers with EY (Ernest & Young) - An information session which will bring to light the opportunities that EY can offer students. Click here for the link with more information.
Experience Sydney - An online taste of university life from the University of Sydney from Monday 8th to Thursday 11th November. Experience Sydney will provide students the opportunity to participate in a taster class and get a sample of some of our first-year lecture material in a variety of study areas. Click here for the link with more information.
Amanda Chahine
Careers Adviser
Published on: 21 Oct 2021
LIBRARY NEWS
The Executive Director's Summer Reading Challenge
The 2021/22 Executive Director's Summer Reading Challenge (EDSRC) has officially begun! Its purpose is to encourage students across the Diocese to focus on reading throughout the summer holidays and we are excited to announce that this year participants have the chance to win one of two $500 JB Hi-Fi vouchers or one of thirty gift vouchers valued at $30.
In order to enter, students simply read (novel, comic, nonfiction, ebook, poetry…. just READ!) then submit a review online to www.parra.catholic.edu. Multiple entries are encouraged, after all the more you read the more chances you have to win. Entries close 5pm on 25 February 2022.

Published on: 21 Oct 2021
STUDENT ACHIEVEMENTS
Year 8 Student Award Golf Scholarship
Congratulations to Marie-Claire D, Year 8 who has just been given a golf scholarship at the Western Sydney Academy of Sports. This academy provides high performance training for pre-elite golfers.
In addition, Marie-Claire also has a scholarship at the Stonecutters Ridge Golf Club Academy of Golf as part of the High Performance Unit.
Finally, Marie-Claire will compete at the 2021 NSW Junior Golf Championship to be held at Lynwood Golf Club between 6th - 9th December. We wish Marie-Claire the best of luck in this Championship!
Published on: 04 Nov 2021
Year 7 Student Receives Certificate for Participation in Youth Voices Video Competition
Zoe M, Year 7 received a certificate for her participation in the Youth Voices COVID-19 Video competition. This competition was run by Western Sydney Local Health District and asked students to make a video about COVID-19. Zoe addressed the issue of vaccinations and her short video can be viewed on the link below:
Published on: 04 Nov 2021
NOTICEBOARD
School Uniform Shop Reopens
The school uniform shop will reopen on Monday, 8th November. Parents and carers are required to make an appointment with the uniform shop and will need to sign in using both the QR code on entering the school campus and the QR code for the School Locker Uniform Shop. Full details on how to book an appointment are available in the pdf document link below.
The School Canteen Is Open!
The school canteen is open and students should order their lunch in the morning before the first bell. Orders can be made by visiting the canteen.
All food at the canteen is prepared and served according to industry standards in a COVID safe way.
The canteen menu has been revised and is available via the link below.
P & F Meeting Summary Term 4
The Parents & Friends meeting for Term 4 was held on Tuesday, 12th October 2021 at 6.30pm over Zoom. All parents are warmly invited to attend these meetings but for those who were unable to attend a copy of the minutes and the Principal's Report is below.
Catherine McAuley Community Business Directory
A reminder that the school has a Catherine McAuley Community Business Directory. This directory is a collection of parent owned businesses and is something you might want to consult when you are next looking for a particular item or service.
If you would like to be included in the directory please fill out the form in the link below:
Do You Follow The School On Social Media?
Did you know the school has pages on Instagram, Facebook and LinkedIn? Posts are made regularly to all pages and if you are a social media user they are a great way to stay informed of the many events and activities happening in classrooms and around the school.
Search for Catherine McAuley Westmead from within these platforms.
If you are an ex student or interested in Alumni news then you may like to also follow the Catherine McAuley Alumni Facebook Page. Search for 'Catherine McAuley Westmead Alumni Association'.
Published on: 21 Oct 2021