LOCKDOWN EDITION - Term 3, Issue 9 - 3 SEPTEMBER 2021
PRINCIPAL'S LETTER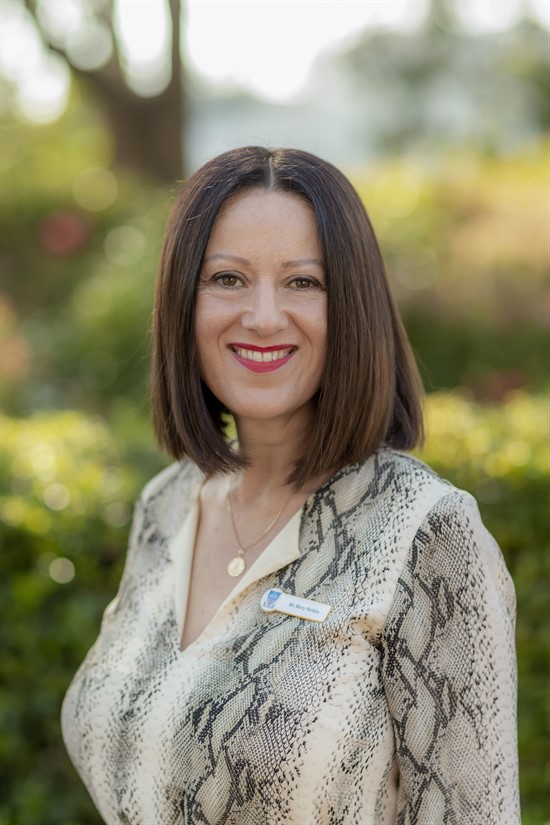 Mercy Day
Today is a very special day for the Catherine McAuley community because we would be celebrating Mercy Day today. Whilst we honour our Mercy tradition every day, on Mercy Day we come together to announce that tradition loudly by remembering the example set by the Venerable Catherine McAuley. In doing so, we remember what it means to be people of mercy, and what it means to lead with excellence, justice, integrity, courage and hospitality.
We are particularly mindful of these qualities at this time of the year, and this year in particular, during the conditions set by a pandemic.
Time and time again, I hear stories of the young women who are the students at this school, your daughters, who are exhibiting these mercy qualities every day in their participation in school life, even though we are remote from one another. We have seen the school's student leaders and staff work tirelessly to engage the school community in a deeper development of these important values, and they have done so very successfully. We have also continued our process of nominating and appointing the 2021 - 2022 student leaders; in this process we have seen incredible mercy leadership qualities in many of the Catherine McAuley students.

Prayer for Mercy Day
Sr Helen Stannard RSM, a Mercy Sister who is often present in our school community, wrote this prayer for us today. I invite you to pray it with your family.
God of mercy you never grow weary of forgiving us and teaching us.
We have learnt that mercy and justice go hand in hand. Help us to be like you and pardon those who offend us, trusting that you will bring your justice upon them too.
May we learn from the examples of Jesus, Our Lady of Mercy and Catherine McAuley
to be people of Mercy and Justice.
Amen.
New date for Mercy Day
We have made the decision this year to hold off on our usual celebrations in the hope that we may be able to celebrate onsite next term. I will keep you notified of any change of date and format for our Mercy Day celebrations.
Wellbeing for all
We were pleased to be able to give students and school staff another opportunity to catch up on things on Wellbeing Wednesday, and therefore to reduce their stress load.
You will have seen an invitation to a parent session, Parenting During a Pandemic, led by school counsellors Suzan Boulattouff and Julia Kweit. The session was run on both Wednesday and Thursday mornings this week. If you were unable to attend but would like to see the session, you can find a link to it here. The session input is about 15 minutes in length, and it is followed by questions and answers.
This event was well attended by parents, and tells us that you appreciate the opportunity to hear from, and ask questions of, the school counsellors. Mrs Boulattouff and Ms Kweit will continue to be available on the next two Wednesday mornings for interested parents. Details and a Zoom link will be sent on each Tuesday, prior to the Wednesday session.
Term 3 2021 eSafety Webinars for Parents/Carers
In partnership with the eSafety Commissioner, CEDP would like to invite you to join the following free webinar for parents and carers:
eSafety parent guide to online sexual harassment and Image Based Abuse
Monday 13 September 2021, 12:30 -1.30 pm
Further information about this is found elsewhere in this newsletter.
Return to school plan
Late last week, the state government made announcements about a return to school plan for Week 4, Term 4 (please see the NSW Government Coronavirus Advice to Families). Catherine McAuley is in the Parramatta LGA and is therefore under Level 4 restrictions.
As always, detailed communication will be sent as the time approaches and the Public Health Orders at that time are made clear to us.
Interschool Sport
Changes to the structure of school competition sport are occurring from the beginning of the 2022 sport season. Details are outlined in this letter.
I would like to acknowledge the successes Catherine McAuley teams have had in the MCCS Competition and thank all students and teachers who have supported this competition. We look forward to taking our skill on the sporting field to the PDSSSC Competition in 2022.
Mary Refalo
Principal
Stories of Mercy Leadership
I would like to share with you two stories that were shared with me this week. They are truly wonderful stories, and ones we should celebrate.
A student in Year 11 organised a Zoom with a Year 7 student who was having difficulty with English and Maths. She is very shy and would not ask for help from the treacher either on the Zoom or via email. The Year 11 student made contact with the student in Year 7, who was very happy to zoom with a senior student to get the help she needed. The Year 7 student is now progressing through her English and her Maths with more confidence.
A Year 7 student organised her entire class to make online birthday cards for their teacher and then asked if she could share the screen so each card and message could be read by the teacher and the class. It was just beautiful and the teacher was almost in tears at one point. The student did this without any prompting because she thought it would bring her teacher joy during her lockdown birthday.
We are very proud of your daughters who continue to exhibit the qualities of true mercy women every day in their lives.
The Mercy Spirit During the Pandemic
Whilst we have been in lockdown and through the pandemic, students from Catherine McAuley have shown mercy, courage, justice, integrity, hospitality and excellence in the following ways.
From the school leaders:
The Liturgy Leaders are running a 30 under 30 campaign (highlighting 30 individuals under 30 years of age, who are inspirational role models)

The Environment Leaders are encouraging household sustainability by promoting home veggie patches
The Learning Leaders are continuing to run Maths Lab and Homework Club
The Hospitality Leaders have run at home cooking challenges
The Social Justice Leaders are keeping students connected by facilitating sharing amongst students and working on making trousers part of our school uniform in the future
The House Leaders are promoting awareness for the people of East Timor
The House Leaders are supporting the Jesuit Refugee Centre in their promotion of fundraising for their important work.
And all of this is happening whilst students are still excelling in their studies.
Published on: 25 Aug 2021
COUNSELLOR'S CORNER
Thursday, the 9th of September, marks the official RUOK? Day. Remember - every day is RUOK? Day. Take the time to check in with your daughter. Ask, "Are you OK?" This will allow them to share what they are feeling; it gives them a sense of connection and belonging.
The Zone of Regulation is a tool that can assist them in regulating their emotions. It is used to teach each student self-regulation by categorising different feelings and states of alertness that we experience into three concrete-coloured zones, Green, Yellow and Red. Self-Regulation is synonymous with words such as self-control, impulse control and self-management, and is defined as the most ideal state of alertness of both emotions and the body for a particular situation.
As young people might require more support due to these uncertain times, please encourage them to reach out to mental health support, such as
Suzan Boulattouf
School Counsellor
Published on: 02 Sep 2021
STUDENT AND STAFF NEWS
School Captains 2022 Announced
Congratulations to Victoria and Zara who were announced last week on Wednesday, 25th August as the School Captains for Term 4 2021 and 2022!!
Both students were representative of strong votes from students and teachers and are most worthy of this position.
Congratulations!!
A Video For Our Year 12 Students
The 2021 school year may have taken a turn in a different direction for the Class of 2021 but there have been many wonderful moments this year. For our Year 12 students and parents - here are some of your 2021 memories so far…
Are You Reading In Lockdown?
Year 11 student Zara is encouraging the McAuley community to start reading. As part of her participation in the Duke of Edinburgh program Zara has had to choose a physical recreational activity, a service volunteering activity and a skill. The skill she has chosen is reading with a focus on the topic of female empowerment.
Zara had planned on a school library display to showcase her reading challenge but has now moved to an online campaign through the student Instagram page (CMAC Girls). Zara will be creating posters about each book she has read to not only demonstrate her understanding of the book but to also gain skills in graphic design.
Zara's first book is called 'Kim Jiyoung, Born 1982' and is a book which has caused a sensation in South Korea as it raises questions about endemic misogyny and institutional oppression.
Zara encourages all students to read more and reminds them of the online platforms SORA and Wheelers which are provided by the school.
Catherine McAuley Team Selected as Metro Minds STEM Challenge Finalist
Last term Catherine McAuley had five teams from the Years 9 and 10 STEM Club enter the Metro Minds STEM Challenge. This challenge involved solving an authentic challenge or harnessing an opportunity related to Sydney's biggest public transport project, the new Sydney Metro. Sydney Metro selected one of the Catherine McAuley Westmead teams as a finalist - congratulations Ashyra C., Michelle B., Arwen-Cady F., Patricia B., Nikita B. and Mary F.!
The finalist team looked at the issue of overcrowding on carriages. "Our idea was to display the capacity per carriage on Metro platform screen doors", says Ashyra. "We were extremely passionate about this idea because it would reduce overcrowding within carriages thereby improving customer experience. We approached this exciting opportunity using the design-thinking process, which revolves around empathising with the Metro users' challenges, then researching and prototyping the most innovative way of solving the users' problems."
The finalist team's submission can be view here: https://vimeo.com/563977699
Due to the final event being unable to be held in person Sydney Metro have not announced a winner but have instead recognised all finalists. This took place at an online event on 12th August where teams could hear how the other six finalist schools approached the challenge and teams could receive feedback from the Sydney Metro experts.
Thank you to the STEM Club, Ms Refalo and Ms Mani for encouraging and supporting the students with this project.
Ms Tara Hartman
STEM and TAS teacher
McAuley Students Feature in Metro Minds Video
When the Metro Minds Ambassadors from Sydney Metro visited Catherine McAuley in May this year our STEM Club students were being filmed by Sydney Metro Education for a promotional video to help tell other schools about the Metro Minds STEAM Challenge. View our students and STEM and TAS teacher Ms Hartman in this video via the Youtube link below.
Seeds In Space
The school is taking part in the 'What'll Happen to The Wattle?' project organised by the One Giant Leap Australia Foundation. As part of this project a number of golden wattle seeds were sent to the International Space Station where they were in space for six months. The seeds have now returned and have been sent to more than 300 locations around Australia. Catherine McAuley is one of these locations!
The aim of the project is for groups to germinate and grow the seeds and upload the data on their progress to see 'What'll happen to the wattle??!'
It is the Catherine McAuley Environment Group with Mrs Stewart-Sandeman who will oversee the planting and monitor the germination and growth rate of the seeds to see if being in space has had any impact on their ability to grow. The Environment Group will plant both seeds from space and seeds which did not go to space to compare both. Once the seeds mature sufficiently the students will plant them around the school.
Sydney Lockdown - A Student Perspective
Year 10 English students in Ms Lu's class were asked to write about their life in lockdown.
Read below for a perspective from two Catherine McAuley Year 10 students:
Lockdown - How Well Are Home Learners Really Doing?
Lockdown is hard for everyone, especially for families with kids who are homeschooling. In my household, it is my mum and dad who are occasionally working, my twin sister and I who are homeschooling, and my eldest sister who is dancing full time in our living room.
It is hard trying to get things done especially with all of the distractions and noise. But overall, it isn't the worst thing. I am able to bond with my family more and have nights in rather than going out.
Through this time, I have learned to be grateful for my time outside. I have learned how to get things done in a different learning environment and in my own learning style. It surprised me because I never thought that learning from home would be easier than at school. I am able to work at my own pace, sort out my time better and try my best in all subjects.
I asked my sister, Madeline, what she thought about lockdown and her learning so far. "It's been a struggle, but I always have the help of my family around me." This shows the contrast between my sisters and my own learning and how well we are doing. Home learning isn't always for everyone, but as my sister said "...I always have the help of my family around me," and so do you, whether it's help from school or at home.
Even though sports is not on, I still have time to go out and get things done. Most days of the week I go for walks with my mum. This is a way to get some mother-daughter time in a way that makes us feel good.
Once the lockdown is over there are many things that I would love to do. The first thing would be to go out with my friends either to the city or for a picnic. Sports is also at the top of my list. Play basketball, go for a walk or run without having to wear a mask or with a small number of people. When the lockdown is over I want to go out and get back to a normal school and home life.
Chelsea L., Year 10
The Term of a Lifetime
Two weeks they said, and then back to school they said. It has now been 9 extensive weeks of staying at home and if I have to be honest I'm loving it. This lockdown has been unlike the past one, I have changed considerably during this time in lockdown.
One great thing is the sleeping, oh how I love to sleep, if I could sleep for the whole day I would. But it has also made me get out of bed more and be more productive with my life. For example, I have been working around four to five shifts a week. It has given me a chance to get out of my house, and also lets me have a social life rather than be on my phone. Another good thing about working is the money although with money comes shopping. Though I try to save, I strongly feel I have become obsessed with online shopping, it is an addiction.
When I am not making pizzas for five excruciating hours nearly every day, during my free time I have been fond of working out more. I have been going on runs every week and doing home workouts to strengthen my bones. Yesterday I did a two hour workout and five hour shift. That is why I am currently in bed while doing this feature article because my legs are more or less dead.
While being healthier with my workouts I have also come to be more strict with the food I eat. In the past month I have been trying to eat a better diet of no dairy or bread. Oat milk iced coffee and rice paper cold spring rolls have become my new obsessions. Last year's lockdown I was more lazy and didn't have a good eating habit because I was home the whole time and wasn't working. I didn't spend much time outside and it had a bad effect on my physical health and mental health. However this lockdown has helped me come to know myself and my own body more, and be much kinder to it. Trying to be the best version of myself.
Reading has also become a fixation for me. I have always been interested in reading a lot before lockdown but with all this free time I have come to be doing it a lot and also compulsively buying a lot of books even if I know I'm not going to read it till next year. I am currently reading this book called ATYD (All The Young Dudes) which it is a novel written by a Harry Potter fan about the Marauders from Harry Potter (James Potter, Sirius Black, Remus Lupin and Peter Pettigrew). I am a big fan of Harry Potter so when I found out there was a book with 56,000 words about the Marauders I obviously bought it. I'm currently halfway through and I think this is the best book I have ever read in my life.
I think this lockdown has been really good for me in improving my grades, eating healthier, getting fitter and working more. This lockdown has actually changed my life for the good.
Tanisha R., Year 10
Published on: 25 Aug 2021
Science Challenges and Competitions
Well done to Nikita B., Year 10, who competed last week in Round 2 of the Brain Bee Challenge. This is an online quiz organised by the Australasian Neuroscience Society which tests students on their knowledge and understanding of the structure and function of the brain. The event was due to take place at one of the universities but went online due to the lockdown. Congratulations Nikita on taking part.
Well done also to the approximate 80 Science students in Years 9, 10 and 11 who last week competed in the online International Chemistry Quiz, a quiz which is conducted annually by the Royal Australian Chemical Institute and which aims to promote chemistry and chemical thinking.

Year 9 Students Given Encouragement By Tokyo 2020 Olympic Athlete
Year 9 had the opportunity to hear from an Olympic athlete, Jaime Roberts, in a zoom session held last week on Thursday, 26th August. Jaime has just competed at the Tokyo 2020 Olympic Games in the sport of Kayaking.
She spoke to the students about unleashing their passion, resilience, facing and overcoming challenges, determination and setting goals. She even had the girls up and moving during the presentation! Students were given tips on how they could be successful in whatever they choose in their lives and they were inspired and motivated to dream big!
Ms Brooke Robson
PDHPE Coordinator
Student English Works
Why Can't You Iron a Four Leaf Clover?
"Why can't you iron a four leaf clover?", I used to ask her. "Because you shouldn't press your luck", she would reply every time without fail. For a moment the thought reminds of a bud opening in spring. Rapture blossoms within me, its sweet fragrance eradicating the pungent decay of reality. It feels like the first rays of timid sunlight after a winter storm and by chasing its warmth, I feel sheltered for the first time in a while.
For a moment, I believe I can escape the internal cord but the bliss is ephemeral. I become consumed by the feeling which burns a gaping hole through the veil that once shrouded my morality. As I stand on the carpet of fine evergreen needles, I am reminded of each lie that tumbled out of my mouth, each falsehood that slipped past my lips. It rips another shred of guilt through my sinful body. "Why can't you iron a four leaf clover?" I ask but the sound of my voice is carried through the sprawling fortress of trees, choked by its own branches until it disappears. What once was an oasis of light in the darkness is now an endless prison, and I know no way to escape it. My question remains dormant in the perfumed clearing and I receive no response.
Jasmine O., Year 10

More fun from Mr Grumley, English Coordinator
Vagaries of English Language:
1. Ever wonder why the word funeral starts with FUN?
2. Why isn't a Fireman called a Water-man?
3. How come Lipstick doesn't do what it says?
4. If money doesn't grow on trees, how come Banks have Branches?
5. If a Vegetarian eats vegetables, what does a Humanitarian eat?
6. How do you get off a non-stop Flight?
7. Why are goods sent by ship called CARgo and those sent by truck SHIPment?
8. Why do we put cups in the dishwasher and the dishes in the Cupboard?
9. Why do doctors 'practice' medicine? Are they having practice at the cost of the patients?
10. Why is it called 'Rush Hour' when traffic moves at its slowest then?
11. How come Noses run and Feet smell?
12. Why do they call it a TV 'set' when there is only one?
13. What are you vacating when you go on a vacation?
14. Did you know that if you have What, When and Where and then replace the 'W's' with T's the questions are answered?
Year 11 Student Answers Some of Mr Grumley's Questions
Our English Coordinator Mr Grumely has posed a few pondering questions in the latest newsletters and Year 11 student Chloe has decided to help Mr Grumley out with some answers. :)
At a movie theater, which arm rest is yours?
This is so irrelevant during Covid. If the cinema is Australian, then following the norm to 'stick to the left', the left hand arm rest should be yours. BUT if you are right handed like an ungodly percentage of the population, you can have the right hand armrest. In the end it comes down to courtesy, so if the person seated next to you is a stranger, you offer them the arm rest, or if you're too introverted to be polite, you just don't use it at all. Put your hands in your lap or in your popcorn, the seats aren't that small. However, if you're in one of the cinemas which have the number of the seat glowing on the arm rest, then that arm rest belongs to the person who purchased that seat number.
If people evolve from monkeys, why are monkeys still around?
Divergent evolution, we didn't evolve from monkeys, we share a common ancestor from which we evolved. Here are some screenshots from my biology textbook which are VERY simplified but you get the gist.
Why is there a 'D' in fridge, but not in refrigerator?
I researched this and I HAVE A THEORY. According to the MW dictionary the word fridge comes from 'frigidaire', a proprietary name. The proprietary name was based on the Latin 'frigidarium' … WHICH is a cold room in an ancient Roman bath. After this I couldn't go further with logic, so I stared at the word and if you look at the structure, it goes f-r-i-g-i-d-blahblahblah. I believe that to form the word refrigerator, the d in the original word occurs too late in the word to be included in a contracted version of the word. For example, the word cannot equals can't because it takes out the n-o. Similarly in refrigerator, if the word truly does stem from the Latin 'frigidarium', I would argue the last few letters are just covered with 'erator', since if it included the d, the word would be spelled frigiderator. I don't know why we don't spell it this way if that truly is it's etymology but I think the bigger question should be 'why the heck do we plop the d before the g in fridge when we decided the d wasn't important enough to be in the elongated version of the word'?
Who knew what time it was when the first clock was made?
That's like saying, who knew what the protagonist's name was when they wrote their first novel? The clock was their invention, therefore they get to decide. They knew the clock was merely a social construct which they subscribed to, and progressively so did society as a whole. No one is stopping you from saying it's 7:46 in Greenwich, when Greenwich universal time says it's 4:52. If you really want to complicate things for yourself and haven't a more pressing matter, then by all means, say it's eighteen billion three hundred ninety-seven million four hundred eighty-two thousand nine hundred forty-three o'clock (if that's even what you choose to label this label of counted existence). As humans we yearn to be understood, and by creating a universally accepted and hence, implemented method of defining the moment we are present in (belong to at present due to immediate feeling), humans find it just that little bit easier to connect. Just imagine the chaos that would ensue if I were to call my father at sunset-o'clock, which in his terms was happilsniff-past-five-drops-of-eucalyptus-oil.
Chloe, Year 11
Student Video Messages To Their Teachers
If you follow the school's social media channels you may have already seen these videos but for those who don't a number of McAuley students gave a shout out to the Catherine McAuley teachers recently in a number of video clips. Click on each link to view:
Published on: 31 Aug 2021
AROUND THE CLASSROOMS
Around the Virtual Classrooms
Book Week Celebrations
The McAuley library staff organised a number of activities to celebrate Book Week last week. On Thursday morning School Principal Ms Refalo read the children's book 'Dharma the Llama' via a live stream. Students were able to watch during Homeroom time. And on Friday during Homeroom students were encouraged to bring their favourite book to show their Homeroom.
Year 7 Science Students Growing Crystals
Year 7 7SC13 of Mrs Manoogian and Year 7 7SC1 of Mrs Stewart-Sandeman have been investigating the effect of cooling rate on the size of crystals formed in their unit 'Are You Ready To Rock'. The students are in the middle of their experiment and growing crystals at different temperatures and comparing the size of the crystals formed.
A 'Zoomcursion' for Year 8 Technology Mandatory Students
Year 8 Technology Mandatory students of Miss Emanuel had the fun of a 'zoomcursion' last week as Miss Emanuel showed the students around her farm. The students are currently completing the Food and Agriculture unit of their course and Miss Emanuel was able to show them her 10 acre farm in the Hawkesbury area. Animals included Angus and Limousin cows and Sussex chickens.
The students have been exploring the concept of 'paddock to plate' which focuses on where our food comes from and how we grow and care for fruits, vegetables and livestock.
Year 8 History Lockdown Challenge
Year 8 history students of Mrs Nicolson were given a lockdown challenge as part of a recent lesson to create their own version of a medieval castle from materials they had at home. The students have been learning about the importance of castles during medieval times and were told their castle could be as small or big as they desired. Students were very creative and created many different types of castles from small scale play-doh versions to large 'couch' castles.
Year 10 Science Students Look at the Effect of Temperature of the Rate of Reactions
Year 10 students with Mrs Bain conducted experiments at home looking at the effect of temperature on the rate of reactions. Students chose to use the reaction in glow sticks for their experiment using ice water, room temperature water and boiling water. Based on their observations it appears boiling or hot water makes the glow sticks glow more.
Published on: 25 Aug 2021
CAREER NEWS
Year 12 University Early Entry Offers
Congratulations to the now 67 Year 12 students who have already received at least one early offer to university.
This new number is following the release of the first round of the Western Sydney University True Rewards Program. Students have received offers in a great mix of courses from law, nursing, psychology, education, design to medical science, planning, exercise design and social work.
Congratulations to all students with additional offers to be released in the coming weeks.
Year 11 Students Step Up To University
Nine Year 11 students have gained a place in the Australian Catholic University (ACU) Step Up program which enables them to complete university course units free of charge while they are still at school.
The ACU Step Up program is a great way for students to experience university early and to obtain credit for university subjects should they choose to pursue the corresponding degree program after Year 12.
Congratulations to Tegan B. and Ava D. who have both gained a place into Step Up into Teaching; Tanya F., Laila K., Anita M. and Adriana S. who have gained places into Step Up into Business; Madi M. and Kayleigh F. who have gained a place into Step Up into Health Science and Zara L. who has gained a place into Step Up into Sport and Exercise Science.
'Engineering Your Future' Series Every Monday
Engineers Australia are hosting a live webinar series every week on Mondays at 5pm that will see engineers working across major projects and in iconic companies sharing insights into this wide-ranging profession, and opportunities that lie ahead for aspiring, future engineers!
Topics range from robotics, quantum engineering, engineers without borders, construction and project management, to insights from universities and UAC on what makes a good engineering application. The schedule of presenters can be found here. A registration link can be found on the schedule. These webinars will run until 29 November. Students of all ages are welcome!
School Holiday Short Courses
A number of exciting courses are being run virtually these school holidays at CathWest in a range of areas including: social media marketing, managing your money, cybersecurity, turning an idea into a business, property investing, and getting your dream job.
Suited to students in Years 10-12. Course cost is $30. These are open for booking via the QR code on this flyer. Enquires please contact: Marielle Talde: mtalde1@parra.catholic.edu.au or 8886 9500.
Engaging with UAC Digital
Senior students and parents are encouraged to engage with the online sessions UAC is providing to support students as they plan for the future. Please see the list of future events and register: https://www.uac.edu.au/schools/uac-digital Recordings of past sessions can also be accessed on the UAC YouTube channel: https://www.youtube.com/c/UACinfo/videos
Mrs Amanda Chahine
Careers Advisor
Published on: 25 Aug 2021
IN THE NEWS
The school has received further recognition for the fundraising last term for the Parramatta Women's Shelter with a small article in the local newspaper 'Parra News' on Tuesday, 10th August 2021.

Published on: 25 Aug 2021
McAULEY GIRLS DO AMAZING THINGS
Dannielle Miller OAM
CEO of Enlighten Education, Best Selling Parenting Author,
Media Commentator, Columnist and Feature Writer,
Director - Education and Special Projects at Women's Community Shelters
Class of 1987
It's OK To Shine
"It's OK to shine", says Dannielle Miller, who has recently been awarded The Medal of the Order of Australia (OAM) in the 2021 Queen's Birthday Honours and is proud of this recognition for her service to education, women and youth. "Everywhere we turn, we're bombarded by messages telling us that girls should be riddled with self-doubt and self-loathing. 'She's up herself' or 'She thinks she is so good' and yet it is important for us to be proud of our talents and abilities and become more comfortable discussing our achievements. Why? Because this will not only help us in our career and life, it will encourage others to be upfront about their skills and goals too".
Dannielle is the co-founder and CEO of Enlighten Education, a leading provider of in-school workshops for teens which she co-founded in 2003. Dannielle began her career as a teacher and it was in this role that she realised that the needs of teenage girls were often going under the radar. Dannielle went on to create the Lighthouse Project, which pairs at-risk students with workshop mentors to help them develop employment skills; she developed a HSC course in service learning which nurtures students' entrepreneurial skills while involving them in meaningful community work and she co-founded Enlighten Education which has worked with more than 25,000 young people aged between 10 - 18 each year across Australia, New Zealand and South East Asia.
Read More About Dannielle here.
Published on: 31 Aug 2021
NOTICEBOARD
Attention Students - Do you need some help with your school work?
Every Wednesday there is a Zoom link put up on the Compass noticeboard for a lunchtime online peer tutoring session. The sessions run from 1.00pm - 1.30pm and are available to all students. Students can join the Zoom at any time during these times.
The McAuley Student Leaders are keen to help you so don't be shy!
Term 3 2021 eSafety Webinars for Parents/Carers
Dear Parents/Carers,
At Catholic Education Diocese Parramatta (CEDP) we see parents and carers as partners in your child's learning journey. In partnership with the eSafety Commissioner, CEDP would like to invite you to join the following free webinar for parents and carers:
eSafety parent guide to online sexual harassment and Image Based Abuse
Monday 13 September 2021, 12:30 -1.30 pm
This live webinar explores the latest research and is a great way to learn how you can help your child develop the skills to be safer online. The session is delivered by the eSafety Commission's expert educators.
About the webinar
eSafety parent guide to online sexual harassment and Image Based Abuse
This webinar will provide parents and carers with an understanding of online sexual harassment and image-based abuse.
It is designed for parents and carers of young people aged 13-18. It will cover:
the difference between online sexual harassment and image-based abuse

how to report online sexual harassment to social media companies

how to report image-based abuse (non-consensual sharing of intimate images) to eSafety and when to report to police

where to get support if you feel upset or worried about something that has happened online.
What you need to do
Please register for the course on the secondary site via the following link:
If you have any further enquiries please email safeguarding@parra.catholic.edu.au.

Minutes of Parents & Friends Meeting Term 3 2021
The minutes of the P&F Meeting held via Zoom on Tuesday, 31st August 2021 are available via here.

Catherine McAuley Community Business Directory
A reminder that the school has a Catherine McAuley Community Business Directory. This directory is a collection of parent owned businesses and is something you might want to consult when you are next looking for a particular item or service.
If you would like to be included in the directory please fill out the form in the link below:
Do You Follow The School On Social Media?
Did you know the school has pages on Instagram, Facebook and LinkedIn? Posts are made regularly to all pages and if you are a social media user they are a great way to stay informed of the many events and activities happening in classrooms and around the school.
Search for Catherine McAuley Westmead from within these platforms.
If you are an ex student or interested in Alumni news then you may like to also follow the Catherine McAuley Alumni Facebook Page. Search for 'Catherine McAuley Westmead Alumni Association'.
Published on: 25 Aug 2021